THE National Farmers' Federation (NFF) has challenged the Federal Government to explain what the delay is in enacting Australian Competition and Consumer Commission (ACCC) recommendations aimed at making quad bikes safer.
NFF president Fiona Simson said already this year, seven Australians, including children, had lost their lives in quad bike accidents.
Ms Simson said despite the horrifying statistic, the Government was stalling on implementing the mandatory fitting of operator protection devices (OPDs) to all new quad bikes within two years.
"We are at a loss to understand why the Government won't introduce this simple change to save lives," Ms Simson said.
"Since 2001 more than 230 Australians have died in quad bike related incidents. More than half of these deaths were a result of a quad bike rollover and crushing or asphyxiation, which OPDs prevent.
"Either the Government doesn't think the many lives lost warrant taking action or there are other factors at play."
Ms Simson said the NFF was supported in its call for quad bike safety changes by a coalition of bodies including: Rural Doctors Association of Australia; Royal Flying Doctor Service; National Rural Health Alliance; National Rural Women's Coalition; Country Women's Association of Australia; Australian Workers Union; National Centre for Farmer Health; AgForce; NSW Farmers; Victorian Farmers Federation; Primary Producers South Australia and WAFarmers.
"Right now, during National Farm Safety Week, Federal Parliament is sitting in Canberra," Ms Simson said.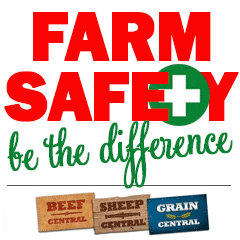 "The Government need do little more than tick a box, to see this change enacted.
"By not taking action, they may think they are responding to concerns about the supposed risks associated with OPDs and the impact on quad bike values.
"But these 'concerns' have been seeded by the manufacturers who are simply advancing their own interests. Not one of the 'excuses' advanced by the manufacturers withstand scrutiny or trump the risk of death and crippling injury.
"To not act on the advice of the ACCC and the calls from the many organisations speaking out today is a slap in the face to rural and regional Australia and our most important asset – our people.
"We are calling on the Government to step up and show leadership on what is an issue of the utmost seriousness."
Farm Safety Week
Safe Work Australia has made awareness of quad bike safety a focus of this week's National Farm Safety Week.
The organisation points out that 97 per cent of quad bike worker fatalities occur in the agricultural sector.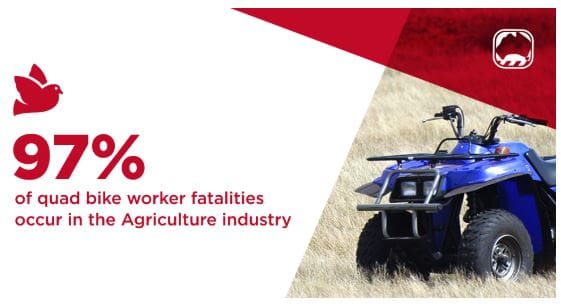 In overall farm safety statistics, Safe Work Australia has released figures that show 17 workers in the agriculture, forestry and fishing industry have been killed since the beginning of this year.
Overall, figures from 2015/16 show agriculture made up 2.3 per cent of the workforce but accounted for 23pc of workplace fatalities.
On average, 41 workers in the industry were killed each year from 2005 to 2015. Safe Work Australia figures show 3,015 serious claims were made during the same period.
Vehicles account for over 75pc of workplace deaths and are often caused by quad bikes, farm vehicles and aircraft.
Other common causes of worker fatalities include being struck by an animal (usually cattle), falls from horses and accidental shooting.
Raising safety awareness
The figures are a timely reminder for everyone involved in agriculture to raise awareness of farm safety issues and take steps to improve worker health and safety on farms.
Some of the hazards faced by agricultural workers include working with animals, working alone or in remote locations, plants, noise, chemicals and dusts.
According to Safe Work Australia, some of the best ways to protect workers include:
Eliminating hazards – things that can kill or hurt workers. If that's not possible, minimize the risks so far as is reasonably practicable.
Choosing the safest equipment for your farm's needs and maintaining it.
Choosing the safest chemicals and closely following the manufacturers' instructions.
Ensure all workers and visitors know about the risks on the farm and how to manage them.
Ensure workers have the skills to work safely, for example when handling animals and using farm equipment.
Closely supervise new and inexperienced workers.
Sources: NFF, Safe Work Australia