THE west of Western Australia has experienced below average rainfall for both April and May, leading to serious and severe rainfall deficiencies for the past three months in a broad area between Exmouth and Perth, according to the latest drought report from the Bureau of Meteorology.
Serious rainfall deficiencies have also emerged in pockets of the southern South West Land Division in WA and on the Eyre Peninsula in South Australia.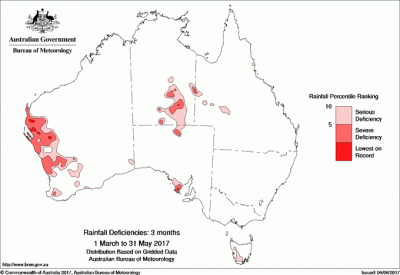 The Bureau's Climate Outlook for June to August indicates that a drier than average winter is likely across the south of both WA and SA.
In Tasmania rainfall deficiencies remain at the three-month timescale, covering the western highlands region.
Soil moisture is below average across the west of Western Australia, much of inland Queensland and western parts of the Northern Territory, the Eyre Peninsula in South Australia, and western Tasmania.
Source: BOM, http://www.bom.gov.au/climate/drought/