GROWERS impacted by the Yorketown fire on South Australia's lower Yorke Peninsula in November have had the opportunity to learn from the experiences of those affected by the Pinery fire in November 2015.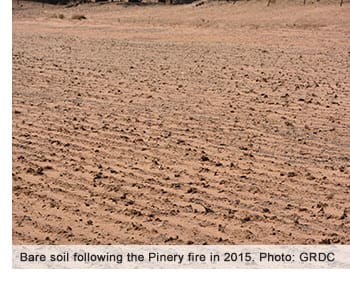 The 2015 fire burnt more than 1400 hectares of Ben Marshman's Owen district property and destroyed infrastructure including fences and sheds.
At an information session organised by Weavers Ag Bureau, Mr Marshman, who farms with his wife Bess and their four young children, shared a list of priorities he would manage differently if his property was ever affected by fire again.
These include:
Prioritise family and mental health
Clear the immediate area surrounding houses of any danger
Seal up houses to protect from dust and topsoil drift
Work constructively with insurance assessors to achieve the best outcome
Assess areas worst affected by drift and implement a plan accordingly
Ensure there is adequate preparation for seeding the following season.
Family
Mr Marshman said one his biggest learnings following the Pinery fire was to prioritise mental health and spend time with family.
"It is easy to get overwhelmed with the job in front of you and think the entire clean-up needs to be done as soon as possible, but it doesn't," he said.
"It is important to sit back, prioritise and make good, informed decisions. Talk to your family and those around you and don't make rash decisions.
"It might also be a good idea to keep alcohol consumption to a minimum. Most of us love a beer, but it is a testing time for the whole family and there is a lot of anxiety from the enormity of the event which can be exacerbated by alcohol.
"Look after your family and, if you can, get away from the fire zone. Rather than living in the fire zone and enduring it every day, try to get away to a shack or somewhere else and look after yourself and your family for a while."
Immediate environment surrounding the house
Clearing the immediate area surrounding the house of any danger and debris as a result of the fire is one of the first steps in keeping the family safe, Mr Marshman said.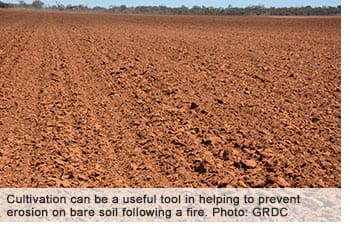 "For us, gutters were one of the first things we needed to address following the fire," he said.
"Making sure they were safe and clean while also tidying up any other immediate dangers was one of our first priorities.
"We also looked to minimise the risk of drift from bare paddocks surrounding the house. As well as cultivation, we sowed some spare wheat seed to help get some cover and minimise drift from those paddocks right next to the house."
House
According to Mr Marshman, sealing up the house to protect from sand and ash following the fire was important in ensuring family health.
"We were lucky enough to still have a house following the Pinery fire," he said.
"Sealing the house up as soon as possible is very important. Every door, window or gap… seal it up with duct tape, have one entrance point and put new seals on all those gaps to make sure they seal really well.
"The fine silica dust which blows around in the air after fire is not good for your health, especially if you have young children."
Insurance
Taking the time to think about insurance needs with family and putting some effort into determining losses and their approximate values helps all parties involved in the insurance process.
"Don't just rely on the insurance assessors to come out and do it for you," Mr Marshman said.
"The assessors are people too and fires are tough on all parties, including them.
"Take the time to go over your insurance, work out what you lost and put some approximate figures on it for the assessors because if you help them, they will help you.
"It is also important to really familiarise yourself with your insurance policy because there will be a lot of things in it which you are entitled to which you might not have realised you were."
Drift control
Mr Marshman said the immediate reaction of all farmers following the Pinery fire was to jump into it and act immediately to stop topsoil drifting.
However, given his time again, he said he would take a different approach.
"If it were to happen again, I would have held off a little bit longer and assessed what was actually happening and where the worst patches were," he said.
"After a few days you can work out what ground is holding on and recovering, rather than going out and ripping everything up straight away. It is important to observe which paddocks are the worst and make a plan for what is happening rather than what might happen.
"We did a lot of cultivation following the fire, but from our experience with sandy soils it is better off leaving them if there is any sort of root system still there as that will hold the ground in place better than cultivation.
"When cultivating heavy ground, we were ripping to up to 20 centimetres deep to make sure we were bringing up decent sized clods of clay to stabilise the ground."
One of the biggest things Mr Marshman learned following the Pinery fire was to have every second or third tyne up out of the ground on the cultivator so there was the option to go back and cultivate the interrow if the need arose.
"We had some big rains following the fire which broke down the clods and everything started drifting again," he said.
"That's why I think it is important to cultivate with every second or third tyne up, as it gives you another option to go back and cultivate if it does rain and start drifting again."
Be ready for seeding
Mr Marshman stresses the importance of not losing sight of the bigger picture and being ready for seeding in autumn next year.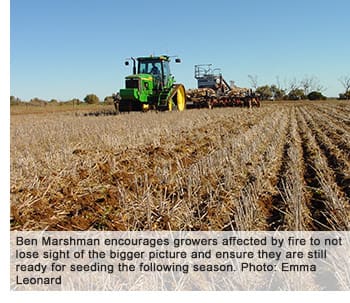 "As grain growers, seeding is our bread and butter. After a fire it is easy to feel like you need to clean everything up straight away, but the reality is you don't.
"You still need to plant next year's crop on time in order to get the best results and have an income for your family."
Keeping extra seed on-hand for re-sowing is another important consideration.
"It is extremely likely that some patches will need to be re-sown, particularly with canola," he said.
"We had to re-sow a lot of canola following the fire, so my advice would be that if you don't have to grow canola then plant a cereal in those patches which are prone to drift.
"What helped us to protect canola from sandblasting was sowing some wheat with it.
"We normally sow our canola on 381-millimetre row spacings, so we sowed wheat in the interrow to help protect it. Alternatively, they could be sown together.
"Once the wheat has done its job and the canola has established well, spray the wheat out straight away as part of your first grass spray, otherwise it will rob moisture."
Source: GRDC
The GRDC Technical Resource Manual for Farm Fire Recovery was developed by the South Australian Research and Development Institute in response to the Lower Eyre Peninsula "Black Tuesday" fire in January 2005 and is available for growers to access on the GRDC website.
The GRDC also published a number of articles following the Pinery fire with topics covering managing bare soils, the effect of fire on soil microbial populations and the use of pre-emergent herbicides on fire-affected soils.