FARMSAFE Australia has released its National Farm Safety Education Fund Strategy, aimed at significantly reducing injuries and fatalities in agriculture by 2030.
The Strategy calls for collaborative industry action across a range of work, health and safety impact opportunities.
Farmsafe Australia chairman Charles Armstrong said the Strategy sent a clear message that agriculture was ready to do things differently.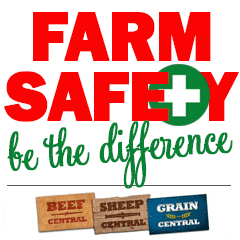 "There is no denying that agriculture needs to change its relationship to work health and safety practices. Not only is legislation demanding it, but our people are much too important to allow the culture of 'she'll be right mate' to prevail," Mr Armstrong said.
"Right now, we're seeing firsthand the importance of our farmers to Australia – they are truly essential. But they also work in an extremely high-risk environment. Agriculture consistently ranks as one of the most dangerous industries for workers in Australia."
The Strategy sets an aspiration to end on-farm fatalities, in line with the National Farmers' Federation's 2030 Roadmap.
"In the last decade, there have been over 600 fatalities on Australian farms. While it may not be realistic to cut this number to zero in the coming decade, we shouldn't be aspiring for anything less."
Mr Armstrong emphasised that the Strategy was not simply about safer systems, it was also about creating safer farmers by shifting attitudes towards better practices.
"Achieving cultural change, especially on farm, will require strong leaders, not just in our peak bodies, but on farm, in our managers and overseers," he said.
Vic campaign targets 'bulletproof' attitudes
Adding to the drive to improve farm safety, Victoria has initiated a confronting new WorkSafe campaign that is highlighting that farm deaths and life-changing injuries can happen to anyone who doesn't prioritise safety.
The campaign's key message – "It's never you, until it is" – aims to challenge a common mindset among farmers and agriculture workers that a serious incident won't happen to them.
Agriculture remains one of the state's most dangerous industries, with 24 people dying as a result of on-farm workplace incidents in the past three years.
Last year alone, 424 people working in agriculture, or about eight people every week, were injured seriously enough to make a worker's compensation claim.
WorkSafe Victoria executive director of health and safety Julie Nielsen said the campaign would show that experience alone did not prevent workplace incidents on farms.
"Farmers know their land and machinery like the back of their hand, but that doesn't make you bulletproof," she said.
"It might be easy to think that a tragic incident will never happen on your farm, but if safety is not your top priority then the chances are high that it will.
"Farmers owe it to themselves, their families, their workers and communities to always keep safety front of mind and make it a permanent part of their daily life."
VIDEO: Victorian horticulture farmer, Catherine Velisha, shares her story as a part of WorkSafe Victoria's new campaign
Sources: Farmsafe Australia, WorkSafe Victoria
For a full copy of the National Farm Safety Education Fund Strategy, head to the Industry Reports section of the Farmsafe website www.farmsafe.org.au