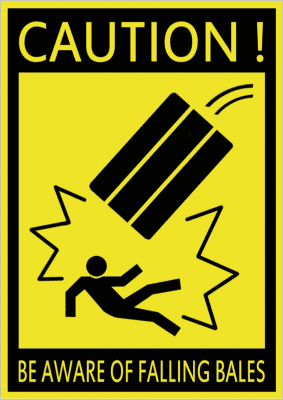 Today is National Hay Safe Day, and the Australian Fodder Industry Association (AFIA) is urging everyone involved in the fodder industry to run through the "Make sure your workplace is HAY SAFE" checklist every day with all workers, operators and family members.
With the 2017 fodder harvest already underway, that often means people working long hours resulting in fatigue and when this happens it's all too easy to overlook or forget about safety and this can have disastrous consequences.
It can only take a split-second for something to go wrong and put the safety of a business owner, employees, family members or the public at risk.
The HAY SAFE checklist includes:
Machinery is securely shutdown before maintenance occurs.
Adequate safety guards are fitted to machinery.
Fire extinguishers and first aid kits are functional and located close to baling operations.
Prominent signage warning of the dangers of falling bales clearly displayed in hay sheds.
Prominent signage warning of the dangers of moving vehicles displayed in hay sheds.
Warning signs clearly displayed on all machinery.
Plant operators are familiar with relevant safety procedures.
All caution lights and reversing alarms are operational on machinery.
Dry flammable crop materials are regularly removed from build-up areas on machinery.
Operators are familiar with changing work environments and possible hazards such as power lines and poles.
"Work health and safety is everyone's responsibility, and we want everyone to take on the Hay Safe Day messages, making safety a focus and helping to prevent accidents from happening in your hay or silage business," AFIA CEO John McKew said.
National Hay Safe Day is the initiative Suzanne Woods an AFIA member, Director, fodder grower and hay exporter from Calingiri in Western Australia. Tragically on October 25, 2009, Suzanne lost her father in an accident on their farm.
To receive a copy of AFIA's "CAUTION! Be Aware of Falling Bales" poster on email to print out and place around your workplace, please email John at AFIA [email protected]
For more information contact the AFIA office on (03) 9670 0523 or visit www.afia.org.au