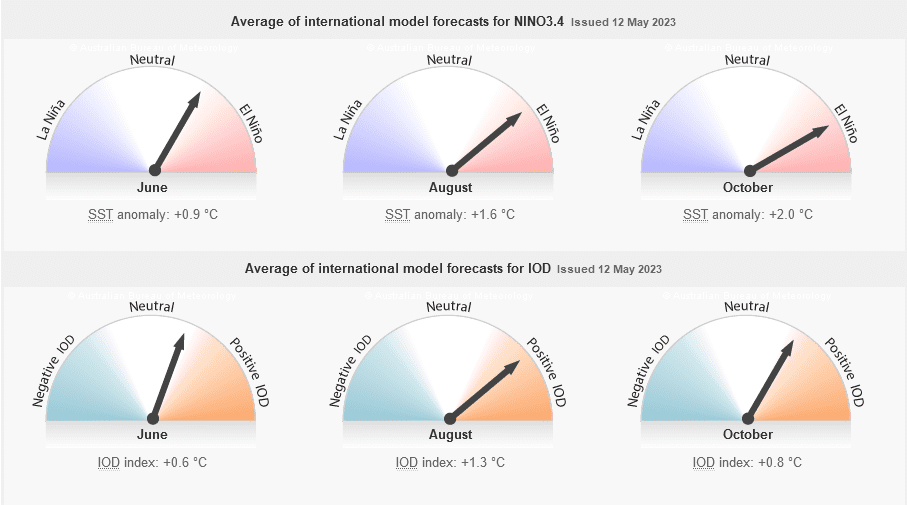 THE Pacific Ocean is currently El Niño-Southern Oscillation neutral – neither La Niña nor El Niño – with anomalous warmth in both the east and west of the basin, the Bureau of Meteorology said in its latest Climate Driver Update released May 9.
While oceanic ENSO indicators have continued to warm and are forecast to reach El Niño thresholds during winter, there has been little to no shift towards El Niño in atmospheric ENSO indicators.
As a result, the ENSO Outlook remains at El Niño Watch; this means there is approximately a 50 percent chance of El Niño developing in 2023.
International climate models suggest further warming of the central and eastern tropical Pacific Ocean is likely.
From July, six of the seven models indicate El Niño thresholds for sea-surface temperatures will be met or exceeded, with all models meeting thresholds by August.
Long-range forecasts for ENSO increase in accuracy as winter approaches.
El Niño typically suppresses rainfall in eastern Australia during the winter and spring months.
The Indian Ocean Dipole is currently neutral, and all five models suggest a positive IOD event may develop by next month.
A positive IOD typically supresses winter and spring rainfall over much of Australia, and if it occurs with El Niño, it can exacerbate the drying effect.
Long-range forecasts of IOD made in autumn have lower accuracy than those made at other times of the year.
A strong Madden-Julian Oscillation pulse lies over the Maritime Continent and is forecast to move into the western Pacific region in the next few days and weaken marginally.
At this time of year, the MJO has little influence on rainfall patterns across northern Australia.
However, an MJO pulse over the western Pacific would weaken trade winds across the equatorial Pacific Ocean and further drive the Pacific Ocean and atmosphere towards El Niño thresholds.
The Southern Annular Mode index is currently positive and is expected to return to neutral towards the end of May.
During autumn SAM typically has a weaker influence on Australian rainfall, but as we approach winter, positive SAM often has a drying influence for parts of south-west and south-east Australia.
Source: Bureau of Meteorology