THE Pacific Ocean and overlying atmosphere remain close to El Niño thresholds, so the ENSO Outlook remains at El Niño WATCH, according to the latest assessment by the Bureau of Meteorology.
This means the chance of El Niño forming in 2019 is around 50 per cent, still double the normal likelihood.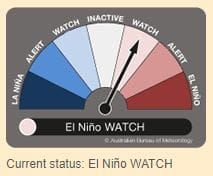 Models indicate the tropical Pacific Ocean will ease away from El Niño levels, becoming neutral during winter.
The Indian Ocean is expected to become the dominant influence on Australian climate, with models predicting a positive phase of the Indian Ocean Dipole (IOD) is likely to develop in the coming months.
An active phase of the Madden–Julian Oscillation in the last fortnight weakened the trade winds and brought a small rise in sea surface temperatures (SSTs) in the central and western tropical Pacific Ocean and a drop in the Southern Oscillation Index (SOI).
This has sustained the El Niño-like pattern in the Pacific.
While a prolonged weakening of the trade winds could elevate El Niño chances once again, the majority of surveyed models suggest the tropical Pacific will cool to neutral levels during winter.
In the Indian Ocean, further warming off the horn of Africa has meant that the IOD index exceeded the positive threshold value this week.
All but one of the models surveyed suggest positive IOD levels will be maintained throughout winter.
To be considered an event, these values would need to be sustained for at least two months.
A positive IOD often results in below average winter–spring rainfall over southern and central Australia.
Source: BOM