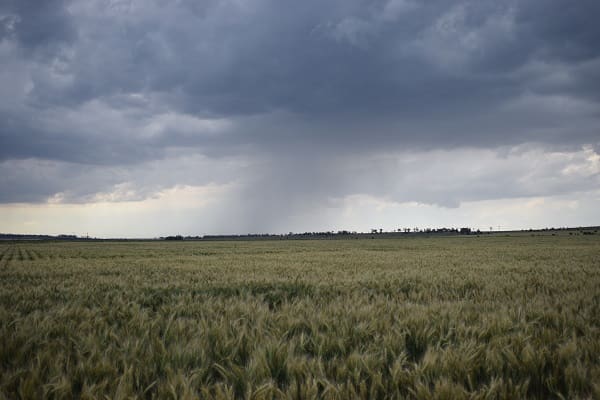 A RAIN front that passed over the drought-affected cropping regions of New South Wales yesterday brought a degree of 11th-hour relief to struggling winter crops and helped kick along emerging summer crops.
After heatwave conditions last week and dust storms in the state's far west on Tuesday, yesterday's falls of 10 to 30 millimetres in the central and north west cropping regions were welcomed by growers.
Grain Orana Alliance chief executive officer, Maurie Street, said 18 to 20mm around Dubbo yesterday was of some benefit, coming on top of 75mm for October and another 12.5mm last Friday night.
"It will mean the late crops will come home alright, but it was too late to add too much to them. There was a lot of damage done before the rain. A number of crops had already been grazed," he said.
"In this area there was a reasonable planting, but in other areas like around Coonamble, Gilgandra and Warren there was a lot of crop that didn't go in."
Mr Street said growers had sown a substantial area of forage crops on the rain for stock feed, but not a lot of summer grain crops as producers focused on feed for sheep and cattle.
"There still exists the problem, particularly for summer grain crops, that a lot of areas have no subsoil moisture. They may be able to get the crops up and going, but they will depend on rain going forward. The Bureau is saying it will be hotter and drier than normal," he said.
In north west NSW, B&W Rural manager, Peter Birch, Moree, said the 10 to 20mm that fell in the region yesterday would be very helpful for the significant planting of sorghum that had gone in.
"Where there has been 15mm in stubble, that will get secondary roots going which is critical," he said.
"There is some dryland cotton in the ground. A few more fields will go in on the back of this rain."
Mr Birch said yesterday's falls were too late to change the outcome for the district's winter crops.
"I don't think it will make a lot of difference to the cereals. There may be the odd chickpea crop that might benefit, but the winds of the last couple of days have blown any flowers and pods off," he said.
"Winter crop harvest is poking along. It is better than people thought, particularly those crops that were sown in late July. There will be some 1.2 to 1.5 tonnes/hectare crops and some that are better than that. It is a long way from a good crop, but with prices the way they are, 1.2t/ha covers the costs."
Grain Central: Get our free daily cropping news straight to your inbox – Click here