A RAIN front that passed over the parched eastern Australia cropping belt in the past few days brought solid falls to parts of Queensland and the western farming regions of New South Wales, but largely missed the desperately dry northern NSW slopes and Hunter Valley.
The far north west cropping areas of NSW recorded some of the highest falls with official registrations at Brewarrina of 67 millimetres, Nyngan 39mm and Bourke 25mm.
Queensland's western Darling Downs and Maranoa regions also fared well with indicative falls of 20mm at Miles; 18mm at Roma; and 31mm at Injune.
But there was no rain of any consequence in the bone dry NSW eastern cropping belt from the NSW/Qld border through to the Liverpool Plains and Hunter Valley where registrations included Moree, 3mm; Tamworth, 9mm; and Scone, 2mm.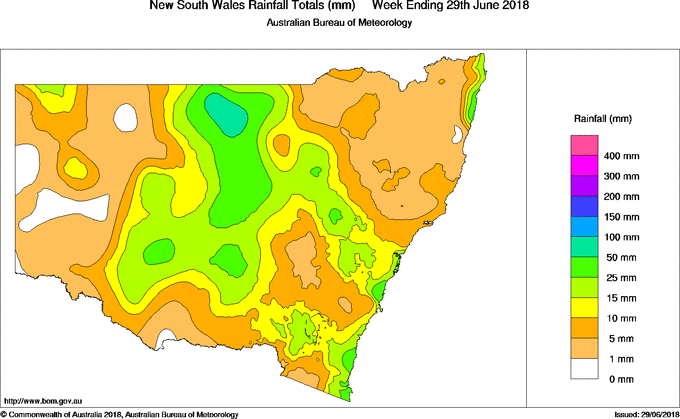 Elders agronomist at Nyngan in north west NSW, Wayne Judge, said the region had received from 12mm to over 40mm, but coming in late June, it was too late to have a substantial impact.
"It won't make a great deal of difference. A lot of the crop has been put to bed. Some blokes have dry sown and others will put a bit in. It won't be much," he said.
"It is the end of June, so there will still be a little bit of crop go in but it won't be a lot because it is a big expense and you have to make every dollar count. They will put a bit in now for feed to carry them through."
Central west NSW
In central west NSW, Grain Orana Alliance CEO, Maurie Street, Dubbo, said the falls were below what had been expected and had been particularly variable.
"As a whole, the change was quite disappointing. There were some bigger falls about, but for the most part it probably wasn't what a lot of people were hoping for, which was a couple of inches (50mm)," he said.
"There were some big totals around Nyngan and other areas. Where we are going to put some trials at Gilgandra they had 14mm at one end of the property and 33mm at the other. 33mm is really useful, 14mm is barely enough."
Mr Street said it was hard to gauge how much winter crop was in or what growers would do in the follow up to the rain.
"Some people have a big chunk sown, but I know of some growers who haven't sown anything – and I'm not sure what they are going to do on the back of this bit of rain. But most people have had a go at something and there are the odd ones who have sown most of their program," he said.
"There was a portion that was dry sown. Some of that was still in dire straits up until this rain because a lot of it had had small shower of rain to germinate it, but it hadn't yet emerged," he said.
"Hopefully this last bit of rain is enough to get it out of the ground, but it is still tenuous. Getting it out of the ground is barely the first step, there is a long, long way to go before we start greasing up the headers. There is not a lot to look forward to on the forecast."
North west NSW
At Moree on the north west slopes and plains, B&W Rural's Peter Birch, said the forecast extensive rain didn't eventuate and only a few millimetres fell throughout the region.
"It has been so frustrating because the forecast has jumped around from 100mm, then no mm, then 20mm, then 400mm and no mm. That has frustrated the growers because they can't make decisions on that. A lot of dry sowing went on last week on the back of all the models saying we should get at least 20mm to 40mm and we got 3mm," he said.
"I haven't heard of anyone in our whole area who got more than 6mm or 7mm."
Mr Birch said in his estimation about 10pc of the area's crops were up and looking good; about 10pc were up and patchy; 20pc of the estimated chickpea crop had been put in the ground, mostly deep sown; a handful of faba beans had been sown; and there was "a stack of dry sown crop that is still waiting".
"There is a cliff face coming in the next two weeks for cereals. After that it won't be worth putting in. Growers won't' grow and spray cereals out, but they certainly won't go and put any more in after two weeks' time. They will probably plant some chickpeas up until the end of August," he said.
Mr Birch said another front forecast for Monday and Tuesday again offered the chance of some rain, but the region needed substantial falls to make a difference, particularly to the south and west of Moree where 100mm was needed.
Queensland
In Queensland, AgForce Grains president, Wayne Newton, said large areas of southern Queensland had received 15 to 20 millimetres, with some districts in the western cropping regions getting under more than 30mm.
"The southern and eastern Downs missed out a bit, but generally it was more than a lot of us expected. The weather bureau had talked it down in the couple of days beforehand," he said.
"There is a bit of crop in and a lot of it was struggling, so the rain should help that no end.
"In some areas, particularly in the western areas, there has been a lot of dry sowing. In the last hours before the rain there were some long hours being done on the tractors. The rain will probably be enough to bring it up and keep it going for a while."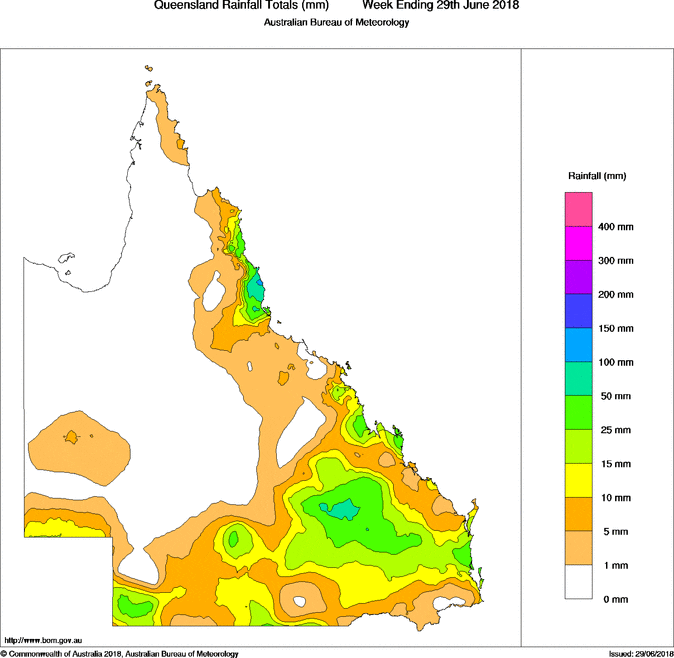 Mr Newton said there was the prospect of further rain later this weekend and early next week that might prompt some late sowing.
"I imagine there will still be some go in on this rain, just because of the high feed prices that are out there. We are still seeing $360/tonne delivered the end of the year. If you have something now it is over $400/t, but everyone is allowing for the price to come off. The really high price will prompt people still to sow," he said.
"In the predominantly summer cropping areas there might be a little bit more go in but it won't be as much out in the western areas where they rely on the winter crop.
"They are past their optimal sowing window for winter crop. Summer crop returns are not too shabby at the moment and the yields from a normal-planted summer crop will way out-weigh the yields from a sub-optimal planting time for a winter crop."
"Farmers will just have to make a judgement. It will be up to individual decisions. If you have 100pc of your area to plant to summer crop you might think putting a bit of winter crop in now mightn't be a bad idea to reduce the workload later and spread the risk."
Mr Newton said winter crop plantings were generally well down on normal, although there had been a surprising area of chickpeas put in.
"It's well back on the record areas we have had in the last couple of years, but still substantial. The price has been up around $690/t and is back to around $670/t now. Not as good as it was in the last couple of years when we saw $900/t and more, but it's still quite a good number," he said.
"It is getting quite late now for chickpeas. Having said that, the year before last some quite successful crops were planted in July. It just depends on the spring, and that's the unknown quantity, bearing in mind the weather bureau is now saying there is a 50 per cent chance of an El Nino."
Grain Central: Get our free daily cropping news straight to your inbox – Click here