RAIN across much of the northern summer cropping zone on Friday and over the weekend has boosted prospects for mung beans, sorghum and cotton, with some areas receiving their best falls for the season.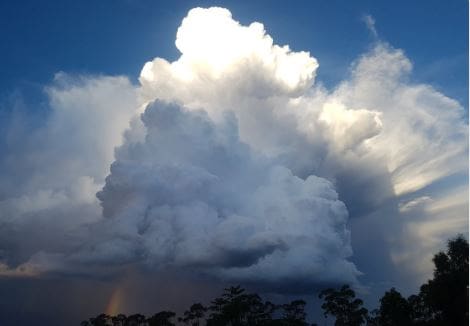 The western Darling Downs recorded some of the highest registrations of 50 to 100 millimetres, with Miles topping the charts at 107mm, Drillham 90mm and Surat 64mm.
There were handy falls in Central Queensland (CQ), southern Queensland and the northern border regions of New South Wales.
Patchy falls in CQ
It was a mixed bag for CQ with some heavy falls, but not all districts received enough to make a difference. Clermont recorded 85mm and Emerald 47mm.
Barnes Ag Consulting agronomist, Matthew Barnes, Emerald, said there was only about 10 per cent of the intended summer planting in before the rain and soil profiles had been very dry.
"The rain will see some summer crop go in, but not as much as you would think as most people are coming from a standing start with no moisture. It will mainly be sorghum. Maybe some mungbeans," he said.
"The rain will help for winter crop. It will give people confidence and build the profiles up for chickpeas."
AgForce Grains board member and Capella farmer, Tim Gersbach, was under some of the heaviest falls in CQ with his farm receiving 96mm and another block 115mm.
"Because the forecast was changing a lot, I wasn't confident we were going to get rain like this. But it hung around from Friday night until Sunday afternoon and was excellent" he said.
"We have no summer crop in yet. This will be it. It is getting late in the season, so this will be our only chance to get something in.
"It is too wet to get anywhere at the moment, but if it's as good as we think it will be we will plant sorghum and sunflowers.
"We will wait a few days for some weeds to emerge and then spray. It will take at least to the weekend to get on the ground."
Moisture boost for Downs
On the eastern Darling Downs, Macalister had 63mm, Dalby 50mm and Warwick 35, while falls in north west NSW were generally lighter with Moree registering 28mm, Rowena 19mm, Narrabri 10mm and Walgett 6mm.
Dalby Rural Supplies head agronomist, Andrew Johnston, said the rain would now guarantee a summer crop in most areas of the Darling Downs.
"It will help the summer-planted mungbeans that were really struggling prior to this rain event," he said.
"There is some late sorghum that certainly will benefit. The early sorghum is probably too far gone (advanced), but there will be some crops that it will help. Some are coming into the spraying out period and are a couple of weeks off harvest.
Mr Johnston said there would be some late mungbeans go in, but one of the key benefits of the rain was it would build the soil moisture profile for the coming winter crop.
"We are still four months off planting winter crop, but it is building the soil moisture profile. We haven't had a lot of rain this summer on the Darling Downs, so any rain is going to start building profiles," he said.
Mr Johnston said growers would need to prepare for controlling the flush of weeds that were likely to germinate.
"We have had a quiet few weeks as far as weeds go, which is one benefit of having no rain. There will be a flush of weeds now and we will need to make sure we are on top of feathertop Rhodes grass and fleabane and the traditional summer weeds. There will be a fair bit of fallow spraying going on over the next 10 days with people getting country ready in preparation for winter crop."
Making a big difference
AgForce Grains president, Wayne Newton, said while the rain was welcomed, it was too late for a lot of the sorghum that was on the verge of harvest in southern Queensland.
"Around the Dalby area most of the sorghum is finished and has been sprayed out and some harvested. People are having issues with screenings and test weights as you would expect with the finish we had," he said.
"Some of the later crops still have some green left in them. The rain will help maintain their grain size and bushel weight.
"It will help mungbeans. There is a smaller planting than the last year or two because the prices are a bit softer and there is uncertainty in the market. Some were starting to flower and struggling badly and some were just at the vegetative stage. The rain will make the world of difference to those crops.
"It has pulled some of the dryland cotton out of the fire. It was getting to be in dire straits and finishing hard with the hot days we were having. The rain will make the world of difference to those crops maintaining the fruit load they have."
Mr Newton said the rain had boosted confidence in the areas west of a line from Miles to Goondiwindi where many farms had received falls of 100mm or more.
"That is starting to set them up with some subsoil moisture for the coming winter crop. Very little summer crop had been planted out there. They will be focusing now on winter crop," he said.
Grain Central: Get our free daily cropping news straight to your inbox – Click here