THE Bureau of Meteorology has raised the ENSO Outlook to La Nina ALERT as the tropical Pacific approaches the La Niña thresholds.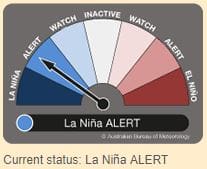 If the current progression continues, and thresholds are exceeded for a sustained period, 2017–18 will be considered a La Niña event.
Raising the status to La Niña ALERT means there is approximately a 70 per cent chance—or triple the normal likelihood—of La Niña occurring.
Climate models suggest that any event is likely to be weak and short-lived, which means it is expected to be very different to the strong 2010–12 La Niña.
The Bureau says the oceanic indicators of ENSO show a clear progression towards La Niña.
Tropical Pacific sea surface temperatures (SSTs) have cooled since late winter, and waters beneath the surface remain cooler than average in the eastern Pacific.
However, they are currently just shy of La Niña thresholds.
Atmospheric indicators such as the Southern Oscillation Index (SOI) and trade winds have shown signs of shifting into a La Niña-like state.
In order for La Niña to become established, atmospheric and oceanic indicators need to be reinforcing each other, which will strengthen and sustain these changes.
The Bureau says all international climate models suggest further cooling of the tropical Pacific is likely.
All models reach La Niña thresholds in December 2017, and most maintain these values until at least February 2018.
La Niña typically brings above average rainfall to eastern Australia during late spring and summer.
However, sea surface temperature patterns in the Indian Ocean and closer to Australia are not typical of La Niña, reducing the likelihood of widespread summer rainfall.
La Niña can also increase the chance of prolonged warm spells for southeast Australia.
The Indian Ocean Dipole (IOD) is currently neutral. IOD events are typically unable to form between December and April.
Source: BOM