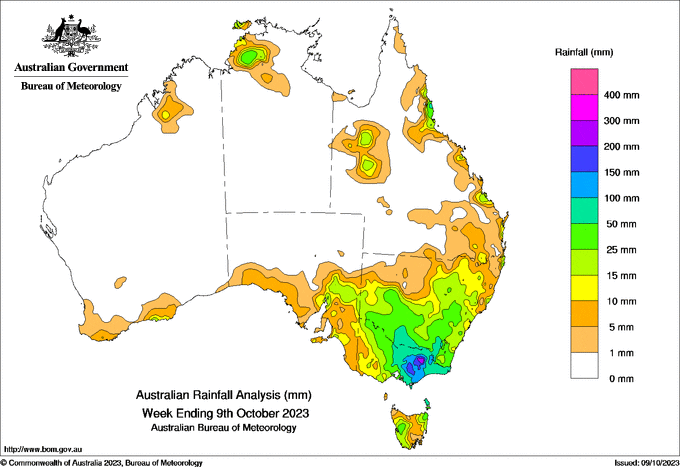 A STRONG cold front and a low-pressure system with an associated rainband impacted southern and south-eastern Australia during the week.
This resulted in widespread rainfall totals greater than 10mm in Victoria, South Australia, New South Wales, Tasmania and south-eastern Queensland.
This system also produced heavy rainfall totals greater than 25mm across large parts of Victoria and southern and central NSW.
Many sites in eastern and central Vic had October daily rainfall totals which were the highest since records began in 1900.
Weekly rainfall totals greater 50mm were recorded across northern, eastern and central parts of Vic and south-western NSW.
Heavy rainfall totals greater than 100mm were recorded in the East Gippsland, West and South Gippsland and North East districts of Vic, and rainfall totals greater 200mm were recorded in isolated alpine areas of North East Vic.
Flood warnings were issued for catchments in central, eastern, and north-eastern Vic after heavy rainfall caused water levels to rise.
Weekly rainfall totals of 10-25mm were recorded across parts of the Qld coast and its North West district.
Isolated falls of 25-50mm were recorded in Qld's North Tropical Coast and Tablelands district, 10-50mm across the north-west of the Northern Territory, and 15-50 mm across eastern and north-western Tas.
The highest weekly total at a Bureau gauge of 254mm was recorded at Mount Hotham, Victoria, including the highest daily rainfall total for the week of 199mm to 9am on October 4.