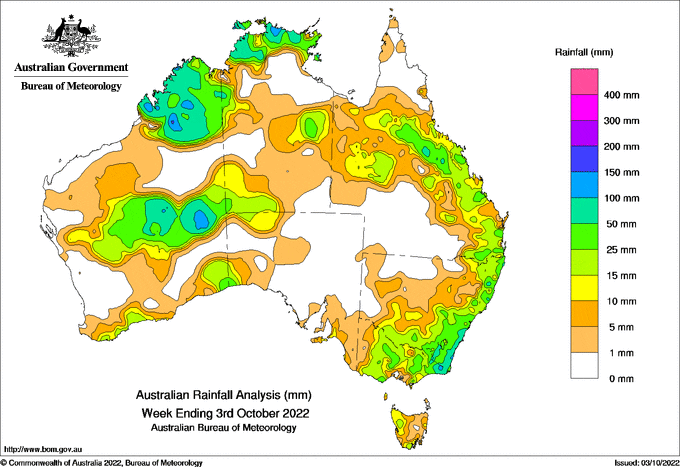 EARLY in the week, a low-pressure system that developed over south-eastern Australia brought showers, rain and isolated thunderstorms to Victoria, Tasmania and much of New South Wales, while an inland trough across northern parts of the country brought thunderstorms and showers to parts of the Northern Territory and Queensland.
Another low-pressure system developed across northern Western Australia on September 29, producing unseasonal thunderstorms and widespread rainfall over parts of north-western, central and eastern WA.
Weekly rainfall totals above 50 millimetres were recorded in large parts of north-west and central WA, the NT, eastern Victoria and in south-eastern coastal NSW; within these, there were smaller areas that received more than 100mm for the week.
Rainfall totals of 10-50mm were recorded in the Kimberley, the central interior and parts of the southern coast of WA, across most of the Top End and in large parts of the Alice Springs, Victoria River and Barkly districts in the NT, in most of Victoria, in large parts of southern and eastern NSW and eastern and central Queensland, and in parts of Tasmania.
The highest weekly total at a Bureau gauge was 171mm at Beaumont (The Cedars) in NSW and the highest daily total was 103mm at Curtin Aero, WA, in the 24 hours to 9am on October 1.
Moderate to major flood warnings were issued for catchments across central NSW, northern Victoria and southern Queensland.