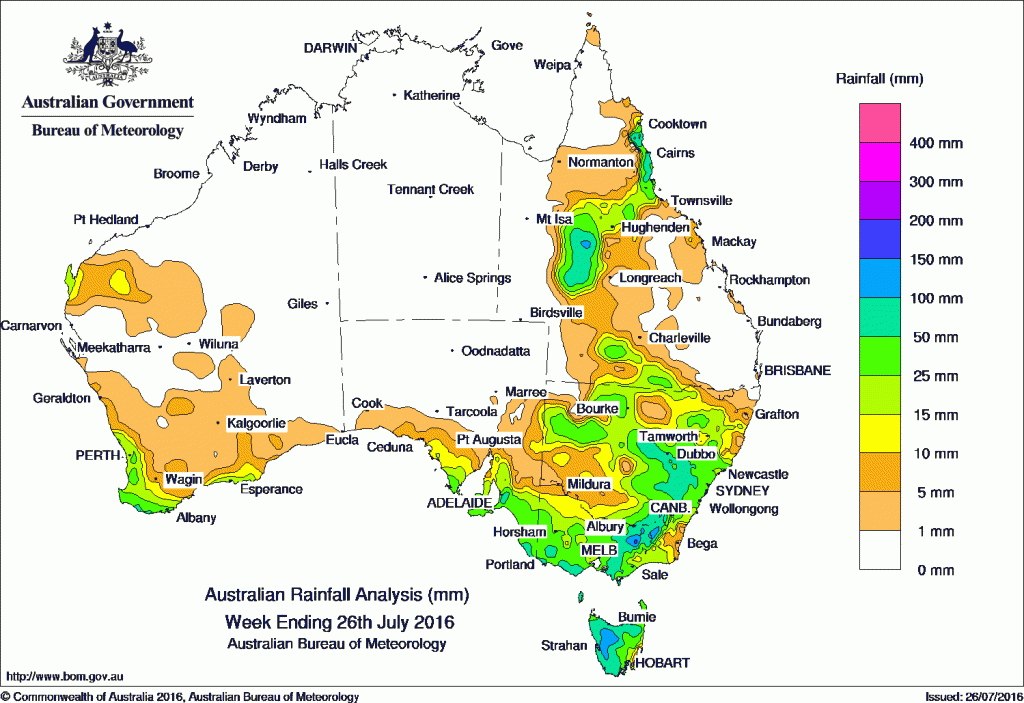 The best falls recorded in the past week were in southern eastern Australia and western Queensland.
Past seven days: A deep surface trough over western Queensland and central New South Wales generated thunderstorms and widespread, moderate rainfall totals in central, western and eastern New South Wales and the central west of Queensland. A ridge of high pressure located in the southern Coral Sea directed an easterly flow that produced moderate rainfall on the north tropical Queensland coast. A cold front tracked across southwest Western Australia, bringing moderate falls to western parts of the South West Land Division. The middle of the week saw a series of cold fronts track across southern Australia, with associated cloudbands extending over southeastern Australia. Moderate falls were recorded across southern and coastal parts of South Australia, Victoria, Tasmania and elevated areas of southeastern New South Wales. In the last part of the week, another cold front tracked across the southeast, while the associated low pressure system moved south of Tasmania.
100mm plus: Elevated areas of the Victorian Alps and in the Snowy Mountains in New South Wales, and in western Tasmania. The highest weekly total was 230 mm in Perisher Valley.
50 to 100 mm: The coastal area of southwest Western Australia, parts of the Mount Lofty Ranges and the lower southeast of South Australia, much of western and northern Tasmania; also areas of central south and northeastern Victoria. Similar totals were also recorded in southeastern and central parts of New South Wales, and in parts of western and northeastern Queensland.
10 mm and 50 mm: Southwest and southern Western Australia; also in the Pilbara of Western Australia. Rainfall totals between 10 mm and 50 mm were also recorded in southeastern South Australia, most of Victoria, large parts of eastern and northern New South Wales, Tasmania, and in southern, western and northeastern Queensland.
Little to no rainfall: The Northern Territory, remaining parts of Western Australia, South Australia away from southeast, western New South Wales, and large parts of eastern, western and northern Queensland.
Highest weekly totals in each state and territory:
New South Wales and Australian Capital Territory
230 mm Perisher Valley AWS
116 mm Thredbo Village
105 mm Mount Ginini AWS
Victoria
229 mm Falls Creek (Rocky Valley)
118 mm Woods Point
114 mm Mount Hotham, Mount Buller
Queensland
96 mm Hawkins Creek
93 mm Crawfords Lookout
91 mm Mt Sheridan
Western Australia
56 mm North Walpole
54 mm Northcliffe
53 mm Warner Glen
South Australia
96 mm Meadows
91 mm Woodside, Piccadilly (Woodhouse)
 Tasmania
116 mm Zeehan
112 mm Lake Margaret Power Station
108 mm Lake St Clair National Park
Northern Territory
0.2 mm Groote Eylandt Airport
More weekly rainfall totals:
Source: BOM