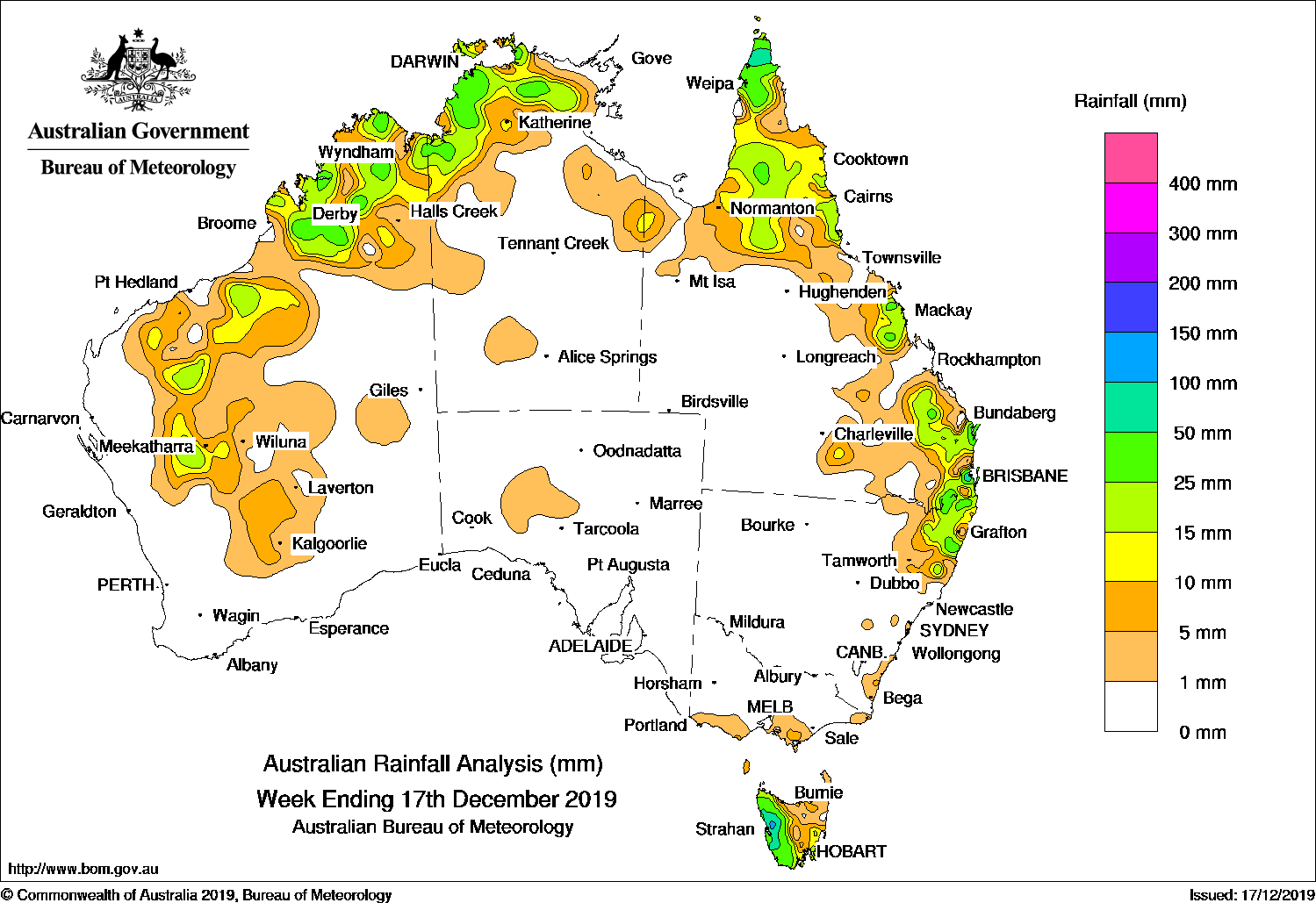 Thunderstorms developed across northern Australia, generating moderate falls, while severe thunderstorms produced locally heavy falls in southeast Queensland and northeastern New South Wales.
Past seven days: In the first half of the week, a broad trough extended from the west coast of Western Australia to the north and east of the country. Isolated thunderstorms and showers brought moderate falls to central and northern Western Australia, areas in the Top End of the Northern Territory, and the Gulf Country, Cape York Peninsula and about the north tropical coast of Queensland.
Severe thunderstorms developed over northeastern New South Wales and southeast Queensland, and moved through Brisbane city on the evening of 11 December, with extremely heavy rainfall causing flash-flooding in and around the Brisbane area. An upper-level trough amplified over southeast Queensland and further severe thunderstorms developed over the South East Coast and Wide Bay districts, with giant hail and locally heavy falls reported. Moderate to locally heavier falls were also reported in far northeastern New South Wales.
In the second half of the week, the lingering broad trough extending from the inland west, northern and eastern parts of the continent triggered thunderstorms in parts of the Pilbara, Kimberley and areas of the Gascoyne in Western Australia, across parts of the Top End in the Northern Territory, and in northern and central coastal areas of Queensland.
Further south, a series of cold fronts embedded in a westerly flow brought moderate falls to western Tasmania during the week. Light falls were recorded in northwest agricultural parts of South Australia and in southern Victoria.
Rainfall totals in excess of 100 mm were recorded in parts of western Tasmania, and isolated areas in southeastern Queensland, including the highest weekly total of 173 mm at Brisbane Botanic Gardens (Mt Coot-tha).
Rainfall totals in excess of 50 mm were recorded about the central west coast of Tasmania, areas of southeastern Queensland and northeastern New South Wales, a small area in the far north of Cape York Peninsula, and in the Darwin–Daly region in the Northern Territory.
Rainfall totals between 10 mm and 50 mm were recorded in areas of the Kimberley, Pilbara and Gascoyne districts in Western Australia; across much of the Top End (excluding Arnhem Land) in the Northern Territory; areas of northern Queensland as well as the central and southeast coasts of that State; northeastern New South Wales, and western Tasmania.
Light falls of less than 10 mm were reported in areas of central Western Australia, southern parts of the Northern Territory, an area in the northwest agricultural district of South Australia, southern Victoria, and the eastern half of Tasmania.
Little or no rainfall was reported in remaining areas of Western Australia and the Northern Territory, western Queensland, most of South Australia and Victoria, and New South Wales away from the northeast.
Highest weekly totals
New South Wales and Australian Capital Territory
94 mm Lillian Rock (Williams Road)
52 mm Meldrum (Coolawarrah), Green Pigeon (Morning View)
Victoria
10 mm Balook, Ferny Creek, Boolarra South
Queensland
173 mm Brisbane Botanic Gardens Mt Coot-tha
157 mm Brisbane
84 mm Merluna
Western Australia
57 mm Kimbolton
55 mm Cygnet Bay
54 mm Mornington
South Australia
4 mm Tarcoola (Commonwealth Hill)
1.5 mm Tarcoola (Mobella)
0.6 mm Nangwarry Forestry SA Depot
Tasmania
171 mm Mount Read
159 mm Lake Margaret Dam
125 mm Lake Margaret Power Station
Northern Territory
81 mm Oenpelli Airport
62 mm Noonamah Airstrip
56 mm Bradshaw – Angallari ValleyBatchelor Airport
Rainfall outlook