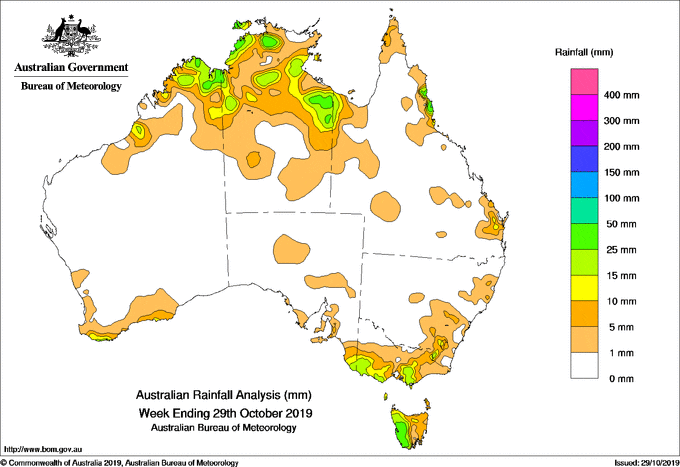 FOR the week to 29 October 2019, rainfall was recorded in the north and far southern coast of Western Australia, south eastern South Australia, much of Victoria except the north west, Tasmania, south east and parts of north eastern New South Wales, the north tropical and south east coasts of Queensland, and much of the northern half of the Northern Territory.
At the start of the week, moist onshore southeasterly trade winds brought showers and moderate falls to the north tropical coast of Queensland. Isolated thunderstorms and showers developed in parts of the Kimberley and eastern Northern Territory along broad surface troughs situated over northern Australia. Further south, a cold front tracked across south west Western Australia and brought light falls to the southwest and southern coast of that State.
By the middle of the week, the cold front moved eastwards, crossing southern South Australia. A pre-frontal trough extended north, connecting to a broad trough across the Northern Territory and northern Western Australia. Isolated showers and thunderstorms were recorded in the Kimberley, and parts of the northern half of the Northern Territory. The cold front continued to track across southeast Australia, with moderate falls reported in southern Victoria, Tasmania, and elevated areas of the Snowy Mountains in New South Wales. Another cold front quickly followed and tracked across Tasmania, generating further light to moderate falls southern Victoria and western Tasmania.
At the end of the week, an upper-level trough generated an extensive cloud band with isolated thunderstorms over the Northern Territory and western Queensland. A broad area of low pressure over northern Western Australia generated isolated showers and thunderstorms in the Kimberley. Isolated thunderstorms also developed along the south east Queensland coast near a surface trough.
Rainfall totals in excess of 25mm were recorded on the north tropical coast of Queensland, south of the Gulf of Carpentaria and around the Darwin–Daly District in the Northern Territory, in places in the northern Kimberley in Western Australia, and in western Tasmania. Some locations in Queensland's north tropical coast, western Tasmania, and the western Top End received weekly totals in excess of 50 mm. The highest weekly total was 85mm at Whyanbeel Valley on the north tropical coast of Queensland.
Weekly rainfall totals between 10mm and 50mm were recorded in the northern Kimberley, a coastal area to the south of Broome, and along the far southwest coast of Western Australia; far southeastern South Australia; southwest, southern central, and far northeastern Victoria; and in western and parts of northeastern Tasmania. Similar totals were recorded in a small area of the Snowy Mountains in New South Wales; around the southeast coast and north tropical coast of Queensland; and in parts of the northern half of the Northern Territory.
Little or no rainfall was recorded in remaining parts of Western Australia, the southern half of the Northern Territory, most of Queensland except parts of the east coast, most of New South Wales except areas in the southeast and northeast, northwest Victoria, and South Australia except in the southeast.
Highest weekly totals list
New South Wales and Australian Capital Territory
27 mm Perisher Valley AWS
29 mm Thredbo Village
21 mm Audley Royal National Park
Victoria
30 mm Mt Best (Upper Toora)
29 mm Cape Nelson Lighthouse
28 mm Warburton
Queensland
85 mm Whyanbeel Valley
64 mm Daintree Village
47 mm Innisfail aerodrome
Western Australia
43 mm El Questro
33 mm Kalumburu
South Australia
20 mm Mount Gambier Aero
19 mm Mt Schank
Tasmania
53 mm Lake Margaret Dam
50 mm Lake Margaret Power Station
48m Mt Reid
Northern Territory
73mm Dum In Mirrie airstrip
65mm Pirlangimpi Airport
58mm Jabiru Airport.
Rainfall outlook