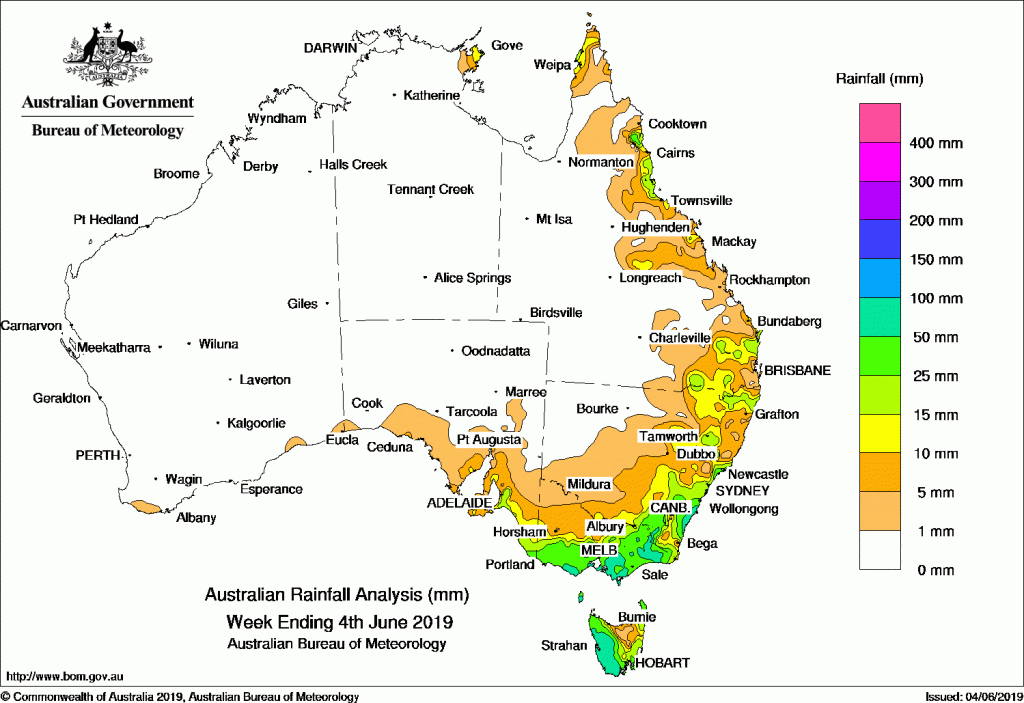 A surface and upper-level trough generated moderate falls in southeastern Queensland and northeastern New South Wales, while strong cold fronts produced moderate falls in southeast Australia.
Past seven days: At the start of the week, a strong cold front embedded in a westerly airstream extended across Tasmania, the Lower Southeast District of South Australia, and Victoria before moving through southern and northern districts of New South Wales.
Very cold and unstable air accompanied the front, with moderate falls in western and southeastern Tasmania, southern Victoria, and the Snowy Mountains in New South Wales (including snow in Alpine areas). Widespread light falls were reported in parts of southern South Australia, much of Victoria (except the far east), and parts of southern and central inland New South Wales before the system moved off the east coast by mid-week.
In the north, onshore winds and showers produced light falls in northeast Arnhem Land and the far northern Cape York Peninsula, and about Queensland's north tropical and central coasts in the first half of the week.
From mid-week, an upper-level trough strengthened and moved slowly eastwards across Queensland, bringing thick cloud, showers and moderate falls to the north tropical and Herbert coasts. Light falls were reported across much of northeast and central Queensland, extending to northern inland districts. Widespread light to moderate falls were recorded over northeastern New South Wales and parts of eastern and southeastern Queensland, as a surface trough and the upper-level trough interacted and moved slowly south-eastwards.
At the end of the week, another cold front and complex area of low pressure tracked across southeast Australia, generating moderate falls in much of southern and eastern Victoria, and the southeast coast of New South Wales. Widespread light rain fell over southeast South Australia, remaining areas of Victoria, most of Tasmania, and areas of southern inland and central New South Wales. Snow was reported in some Alpine regions of New South Wales and the southern Darling Downs in Queensland.
Rainfall totals of up to 100 mm were recorded in parts of central southern Victoria and West Gippsland, and western Tasmania, including falls in excess of 100 mm at some locations. The highest weekly total was 128 mm at Mount Baw Baw in Victoria.
Rainfall totals in excess of 50 mm were recorded across most of western Tasmania, parts of southern, central, and northeastern Victoria, elevated areas of the Snowy Mountains, and parts of the central and southeast coast of New South Wales.
Rainfall totals between 10 mm and 50 mm were recorded in southeastern South Australia; most of the remainder of Tasmania except a pocket of the State's north; most of Victoria except the northwest; and across the southeast of New South Wales. Totals in excess of 10 mm were recorded also recorded areas across the northeast of New South Wales, far northern Cape York Peninsula, east coast and southeast Queensland, and in the northeastern tip of the Top End in the Northern Territory.
Little or no rainfall was recorded in Western Australia, the Northern Territory, South Australia away from agricultural districts, central to western New South Wales, and most of Queensland away from the east coast and southeast.
Highest weekly totals
New South Wales and Australian Capital Territory
94 mm Perisher Valley AWS*
72 mm Batemans Bay
70 mm Jervis Bay
Victoria
128 mm Mount Baw Baw
114 mm Blackwood
88 mm BallanTrentham
Queensland
41 mm Double Island Point Lighthouse
36 mm Hawkins Creek
33 mm Bloomsbury
Western Australia
12 mm Northcliffe
3 mm North Walpole
1.8 mm Eucla
South Australia
30 mm Mount Gambier Aero
29 mm Lobethal (Maidment Road)
28 mm Lobethal (Graeber)
Tasmania
100 mm Scotts Peak Dam
99 mm Lake Margaret Power Station
98 mm ZeehanMount Read*
Northern Territory
21 mm Gove Airport
12 mm Alcan Minesite
Rainfall outlook: