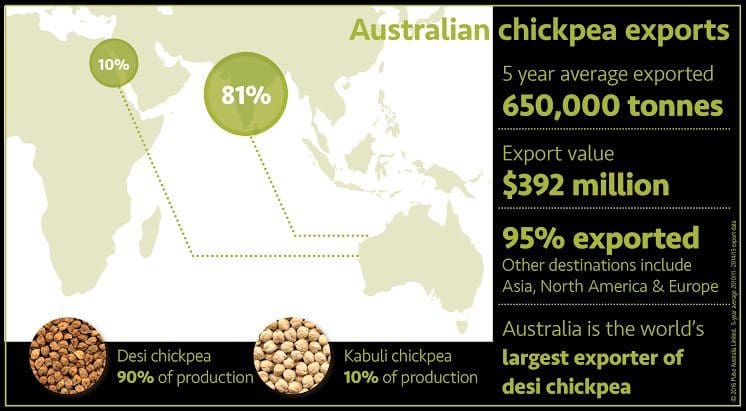 India takes 81pc of Australia's chickpea exports. Image: Pulse Australia
INDIA'S Parliament has imposed a 30 percent tariff on imported chickpeas and red lentils, taking immediate effect.
Product already on the water to India will be subjected to the new 30 percent duty on arrival, according to a statement released by the Indian Ministry of Finance overnight.
The 30pc tariff follows a duty imposed on field peas of 50pc in November, as part of moves by India to support farmers.
"The Government has decided to impose 30pc import duty on Chana (Chickpeas) and Masoor (Lentils), with immediate effect," the statement said.
"Production of Chana (Chickpeas) and Masoor (Lentils) are expected to be high during the forthcoming Rabi season, and cheap imports, if allowed unabated, are likely to adversely affect the interest of the farmers. Taking these factors into consideration and to protect the interest of the farmers Government has decided to increase the said import duty."
"At present, tur attract 10% import duty. Further, Government has recently imposed 50% import duty on yellow peas. Other pulses, however, attract Nil import duty. There has been a record production of pulses in the current year. However, despite sufficient domestic availability, import of pulses continue to take place on account of low prevailing international prices. Such imports suppress the domestic prices of pulses and adversely affect the interest of farmers. "
Talk of an impending tariff had been rumoured for some weeks but the sudden and immediate nature of the imposition announed overnight has generated concern within Australia's grain industry.
India is a key market for Australian pulses, accounting for approximately 80pc of Australian chickpea exports.
Australia's Free-Trade agreement negotiations with India have stalled since last year in part because neither party could reach an agreement on agricultural protection.
The Victorian Farmers Federation expressed concern about the impact on growers in the State, many of whom have already battled frost and hail this season.
VFF Grains is calling on the Australian Federal government to build on our positive relationship with India and continue negotiations on agriculture trade barriers.
"Australians producers compete in an international market without any government support and therefore ensuring positive trade protocols with our trading partners is essential," said Ross Johns, the VFF Grains President.
"It is important we continue our dialogue with India to ensure we can create a stable trade environment, without these surprise tariff increases."