A NEW SafeWork NSW campaign launched by the Minister for Better Regulation Kevin Anderson urges quad bike owners to 'keep kids off quad bikes' during the school holidays.
The campaign will remind farmers that one in seven child deaths on farms involves the use of adult-sized quads.
"Quad bikes weigh 400 kilograms and are extremely dangerous; I cannot stress enough how important it is to take the proper precautions when operating these powerful machines," Mr Anderson said.
The campaign features Josh Maxwell, whose daughter was tragically killed in a quad bike accident in 2017.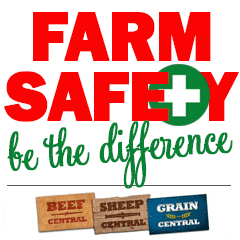 "No parent should ever have to go through what the Maxwell family went through, and there are just too many incidents involving kids in NSW," he said.
"It's important at this time that we keep safe and look after each other, and I can't see any circumstances where it would be appropriate to take the risk of giving a child the keys to a quad bike."
Quad bikes are the biggest killers on NSW's farms, causing 132 deaths in Australia since 2011, according to SafeWork NSW.
Mr Anderson reminded farmers that they can still access funds to assist in making their operations safer through the Quad Bike Safety Improvement Program.
This rebate program has led to farmers purchasing 1918 new side-by-side vehicles and 873 rider safety devices, including roll bars, being fitted to quad bikes.
"Farmers are eligible to claim a $2000 rebate as one-off payment and at the point of sale when upgrading their quad bike to a safer side-by-side vehicle," he said.
"There is also funding available for drones which gets people off quad bikes for tasks including checking stock, fences, dams and to monitor weed growth."
Source: SafeWork NSW
For more information on SafeWork NSW's Quad Bike Safety Improvement Program, including rebates and training, visit www.safework.nsw.gov.au and search for 'quad bike'.