CLAAS has introduced a new terminal that seamlessly combines the three operator assistance systems found in Lexion 700 combine harvesters into a single, easy-to-use touchscreen.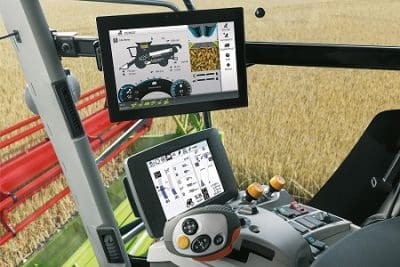 Claas Harvest Centre product manager – Lexion, Jonathon Ham, says Cebis Mobile allows the operator to control Cruise Pilot, Cemos Dialog and Cemos Automatic using a standardised interface.
"This simple design and intuitive menu-based navigation makes it easy to monitor and adjust of the machine's key operating functions and processes," he said.
The 300 mm (12") high-resolution colour touchscreen features a silhouette of the combine harvester that continuously displays the settings for all the main functions, such as rotor and fan speed, grain moisture and grain tank fill level.
The screen also incorporates images from the grain quality camera, enabling the operator to monitor crop quality at all times.
"In turn, this data is fed into the Cemos Auto Cleaning system to optimise grain cleanliness," Mr Ham said.
"The screen also has two simple slide controllers that allow the operator to set the optimum balance between grain cleanliness, straw quality and throughput."
The lower area of the screen displays the harvester's 'dashboard' and Cruise Pilot status, including forward speed, throughput and engine load.
Cemos Dialog function permanently monitors all machine functions and processes, and alerts the driver if the machine's potential is not being utilised to the full.
"A message appears on the Cebis Mobile screen and the driver can view a suggestion for optimising the settings," Mr Ham said.
"The operator can accept or reject these suggestions simply by touching the screen.
"Alternatively, the operator can engage Cemos Automatic, which continuously monitors all the key functions and processes and then adjusts the machine settings to optimise performance according to the operating conditions."
These include Auto Separation for automatic control of residual grain separation, Auto Cleaning for automatic adjustment of the cleaning process and Auto Slope, which adjusts the fan speed when the machine is working on a slope.
Cebis Mobile will be available as an option for 2018 delivery Lexion 700/600 combine harvesters.
Source: Claas