Growers and marketers have capitalised on strong export demand to shift much of Australia's 2016 canola crop, prior to competition from Black Sea origins weighing on values.
Trade sources say European demand drove the fast start for new-crop exports (grey line on adjacent graph), and set what appears to be an early-shipment record of almost 500,000 tonnes each month from November to February, with a similar quantity projected for March.
The rate of export shipments of canola is likely to slow from the end of this month in favour of wheat and barley, according to a recent supply/demand report from analyst Lachstock Consulting.
Grower drive
The cashflow  appeal of high prices and oil bonuses in a strong global oilseed market saw growers turn their 2016 canola into money in the bank ahead of cereals with their lacklustre values.
Industry sources estimate the four mainland canola states' canola crop of almost four million tonnes was probably 80 per cent sold by growers at harvest, and most of the balance has been sold since then.
Shipments have included the biggest ever canola cargo to sail from the WA port of Albany.
"With the canola cash price at harvest being strong relative to wheat and barley, growers took the opportunity to sell a large portion of their canola crop for cash flow through the harvest period," Market Check's Nick Crundall said.
"On top of this, oils were particularly strong due to the wetter-than-average finish which strengthened the growers' conviction to sell canola early.
"This has left only a small amount of the bumper crop still sitting in growers' hands, which has been trickling out over the past two months."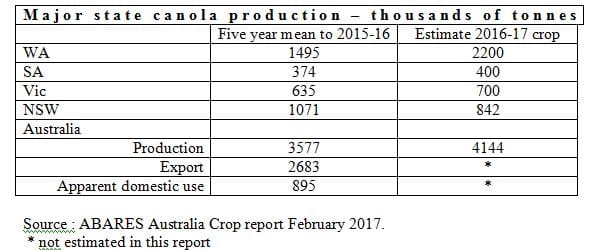 New-crop outlook
Price quotations for 2017-18 canola were active in February over A$500/t and growers appear likely to respond by planting greater area to canola this year than last.
Competition from Ukraine appears highly likely to put greater pressure on 2017-18 returns for Australian growers, with the Ukraine expected to have increased its plantings of rapeseed by 45pc compared with the previous year.
The Ukraine harvest in August-September  would contribute an additional estimated 650,000t of competing exports in 2017-18.
As the unpriced export component of Australia's 2016 canola dwindles, EU demand will switch to Black Sea (Ukrainian) rapeseed shipments.
Canada and Ukraine are significant suppliers of canola and rapeseed to European crushers, though Canada – the largest exporter – sends most of its export surplus to China and Japan.