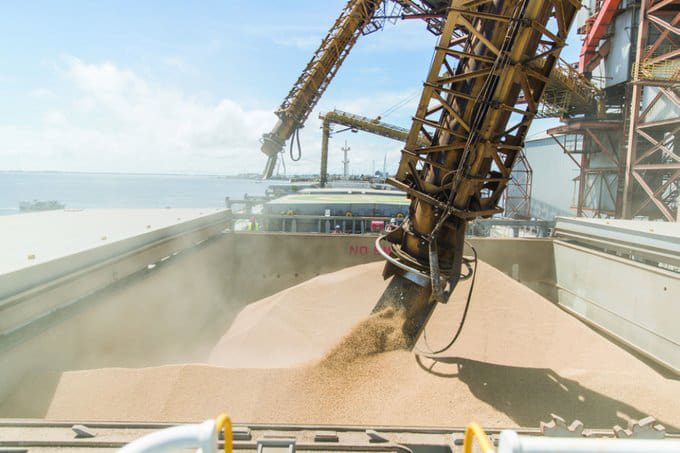 AUSTRALIA exported 2,313,751 tonnes of wheat in March, down 12 per cent from 2,624,651t shipped in February, according to the latest export data from the Australian Bureau of Statistics (ABS).
In bulk shipments, Indonesia on 360,395t, Vietnam on 349,062t and China on 185,250t were the major destinations, while in the containerised market, Malaysia on 67,676t, Vietnam on 48,846t and 21,819t were the volume buyers.
Australia's first sizeable durum export program has also continued, with March shipments of 33,018t comprised mainly of a single bulk cargo to Italy.
In its latest monthly wheat supply-and-demand report released May 3, Lachstock Consulting  has increased its estimate for Australia's 2020-21 exports to 22.6 million tonnes (Mt), up 225,000t from the April figure.
"Given the amount of business rumoured to be done already, we may see this push slightly higher in the coming weeks," the report said.
"This has come entirely out of carry-out, taking ending stocks down to 3.2Mt for 2020-21.
"It's amazing how well logistics have performed to tighten down the balance sheet this year. "
In the first quarter of 2021, ABS data shows Australia has shipped 7.3Mt of wheat.
| | | | | |
| --- | --- | --- | --- | --- |
| DURUM | Jan | Feb | Mar | Tonnes |
| Fiji | 490 | 0 | 0 | 490 |
| Italy | 0 | 82375 | 32610 | 114985 |
| Malaysia | 0 | 2 | 0 | 2 |
| Nigeria | 0 | 14300 | 0 | 14300 |
| Philippines | 400 | 0 | 400 | 800 |
| Taiwan | 0 | 0 | 8 | 8 |
| Thailand | 0 | 0 | 0 | 0 |
| TOTAL | 890 | 96677 | 33018 | 130584 |
Table 1: Australian durum exports in January, February and March 2021. Source: ABS
| | | | | |
| --- | --- | --- | --- | --- |
| BOXED | Jan | Feb | Mar | Tonnes |
| China | 21714 | 4027 | 8969 | 34711 |
| Egypt | 1015 | 1655 | 2013 | 4682 |
| Fiji | 290 | 248 | 246 | 784 |
| French Polynesia | 0 | 0 | 124 | 124 |
| Indonesia | 87917 | 34293 | 16653 | 138864 |
| Japan | 0 | 1571 | 2670 | 4241 |
| Kuwait | 0 | 38954 | 0 | 38954 |
| Laos | 0 | 0 | 501 | 501 |
| Malaysia | 24598 | 35935 | 67676 | 128209 |
| Myanmar | 23716 | 10475 | 4769 | 38961 |
| New Caledonia | 3045 | 2162 | 4518 | 9725 |
| New Zealand | 2568 | 2064 | 4569 | 9201 |
| Papua New Guinea | 404 | 602 | 1307 | 2313 |
| Philippines | 3914 | 1910 | 4821 | 10646 |
| Saudi Arabia | 638 | 262 | 1019 | 1919 |
| Singapore | 573 | 500 | 1489 | 2562 |
| Solomon Islands | 980 | 875 | 2066 | 3921 |
| South Korea | 502 | 2146 | 2487 | 5135 |
| Taiwan | 16944 | 19623 | 21819 | 58385 |
| Tanzania | 303 | 0 | 0 | 303 |
| Thailand | 21248 | 19494 | 20093 | 60834 |
| UAE | 0 | 21546 | 0 | 21546 |
| UK | 1449 | 783 | 1228 | 3460 |
| Vietnam | 37024 | 54409 | 48846 | 140279 |
| TOTAL | 248842 | 253535 | 217883 | 720260 |
Table 2: Australian containerised wheat exports in January, February and March 2021. Source: ABS
| | | | | |
| --- | --- | --- | --- | --- |
| BULK | Jan | Feb | Mar | Tonnes |
| Bangladesh | 60500 | 148169 | 0 | 208668 |
| Burundi | 0 | 2962 | 0 | 2962 |
| China | 144520 | 0 | 185250 | 329770 |
| Egypt | 71286 | 63004 | 0 | 134290 |
| Fiji | 30001 | 12100 | 0 | 42101 |
| Indonesia | 455996 | 383672 | 360395 | 1200063 |
| Italy | 0 | 32000 | 0 | 32000 |
| Japan | 93720 | 109643 | 0 | 203363 |
| Kenya | 44000 | 44000 | 97699 | 185699 |
| Kuwait | 45274 | 47300 | 0 | 92574 |
| Madagascar | 0 | 32307 | 0 | 32307 |
| Malawi | 0 | 10000 | 0 | 10000 |
| Malaysia | 89967 | 81200 | 93940 | 265107 |
| Mozambique | 0 | 56484 | 8000 | 64484 |
| Myanmar | 69934 | 26649 | 1000 | 97582 |
| New Zealand | 50286 | 54312 | 25307 | 129905 |
| Nigeria | 0 | 45980 | 0 | 45980 |
| Oman | 0 | 499 | 0 | 499 |
| Papua New Guinea | 30470 | 16500 | 26070 | 73040 |
| Philippines | 329199 | 226611 | 11865 | 567674 |
| Qatar | 0 | 20800 | 0 | 20800 |
| Rwanda | 0 | 5923 | 8734 | 14657 |
| Saudi Arabia | 66000 | 58500 | 175495 | 299995 |
| Singapore | 0 | 14450 | 0 | 14450 |
| South Africa | 0 | 46482 | 161400 | 207882 |
| South Korea | 88000 | 145440 | 49500 | 282940 |
| Sri Lanka | 0 | 106700 | 93165 | 199865 |
| Sudan | 0 | 9091 | 144385 | 153476 |
| Tanzania | 0 | 30605 | 27888 | 58493 |
| Thailand | 107514 | 147004 | 58442 | 312960 |
| Uganda | 0 | 0 | 42354 | 42354 |
| UAE | 66779 | 22000 | 0 | 88779 |
| Vietnam | 194667 | 243113 | 349062 | 786842 |
| Yemen | 113524 | 30940 | 142700 | 287164 |
| TOTAL | 2151635 | 2274439 | 2062650 | 6488724 |
Table 3: Australian bulk wheat exports in January, February and March 2021. Source: ABS
Grain Central: Get our free cropping news straight to your inbox – Click here