MALTING barley varieties should hit malthouses and breweries sooner under a new system to accredit barley for use in malting and brewing launched by industry body, Barley Australia, this week.
It also gave approval for the small-batch malting plant operated for almost a decade now by Pilot Malting Australia (PMA) at Joondalup, WA, to undertake stage 1 testing (see separate story).
The PMA plant simulates large-scale commercial malting using small batch sizes of 100 kilograms, compared with other plants' batch sizes of 200 tonnes, and new varieties could complete both stage 0 and stage 1 in the same year.
At stage 0 Barley Australia recommends, or not, testing of a barley variety for which a promoter has submitted and application (see graphic below). Pilot malting and brewing is undertaken in stage 1 and successful varieties would advance to commercial trials in stage 2 in two subsequent seasons.
Barley Australia executive chairperson Megan Sheehy said using PMA would potentially accelerate the evaluation process and give growers access to malting barley price premiums sooner.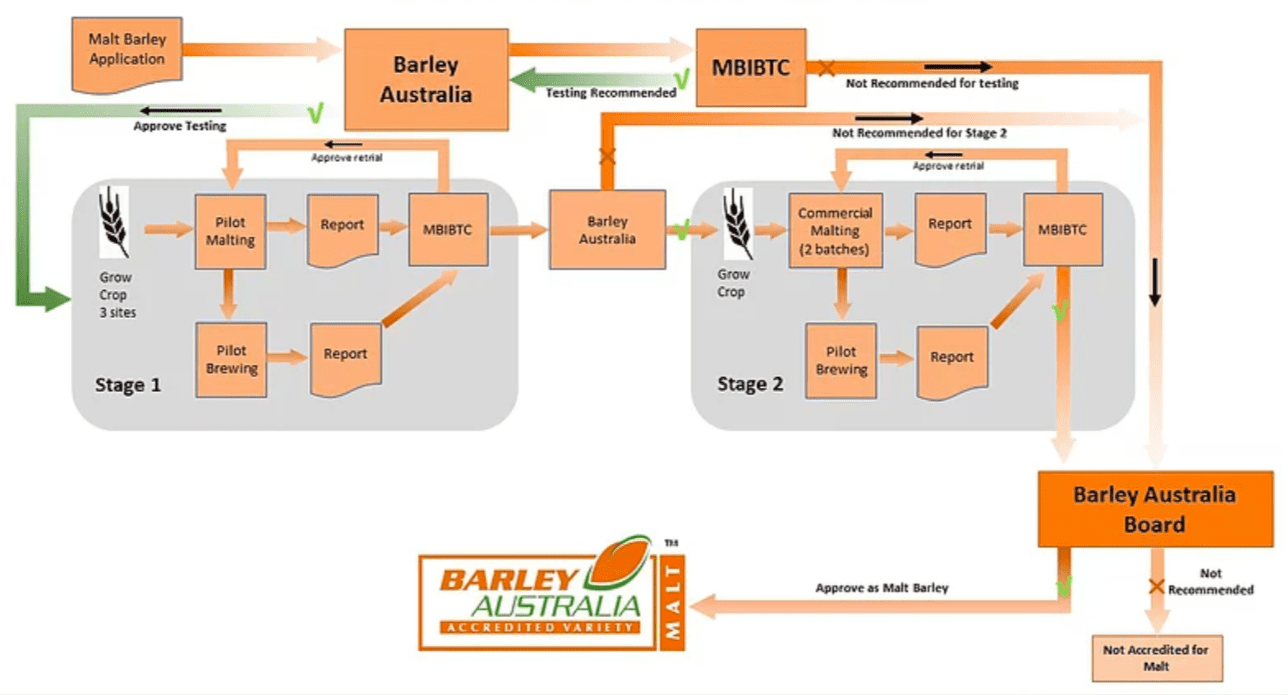 The new system also recognises the need for post-accreditation market support to familiarise Australian malt barley customers with newly-accredited varieties and to help with their adoption.
"Seasonal and regional malting data, generated by PMA, will be made available to the Australian industry to support marketing of new malting barley varieties."
It has an improved funding model, and will be more equitable, sustainable and transparent.
"Combining more rapid malt accreditation with stronger market support, growers and the whole Australian industry should be better placed to benefit from the genetic advances being made by barley breeders," Dr Sheehy said.
She anticipates the new system will owe its success to broad industry collaboration, acknowledging and thanking the Grains Research and Development Corporation (GRDC), the Department of Primary Industries and Regional Development (DPIRD), Australian Export Grains Innovation Centre (AEGIC), Edith Cowan University (ECU), Pilot Malting Australia (PMA), Pilot Brewing Australia (PBA), the Malting and Brewing Industry Barley Technical Committee (MBIBTC), barley breeders, promoters and grain marketers.
"As well as being more flexible, the new system will mean the MBIBTC will have more robust data at hand when making accreditation decisions," Dr Sheehy said.
Source: Barley Australia; feature image micro brewing plant, credit Edith Cowan University.
Grain Central: Get our free daily cropping news straight to your inbox – Click here