THE LATEST export figures from the Australian Bureau of Statistics (ABS) show Australia's May canola shipments at 37,839 tonnes dropped to just 9 per cent of the April figure to reflect a rundown on exportable surplus from the crop planted last year.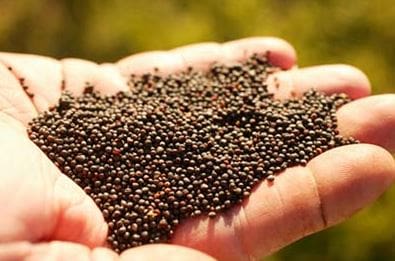 Centre State Exports grower services manager, Paul Lange, said further bulk shipments in the current marketing year looked unlikely.
"You'd have to think we're getting close to the bottom of the barrel in terms of tonnes available," Mr Lange said.
Outside of Western Australia, production prospects for 2018 canola look patchy.
Mr Lange said attractive new-crop prices were encouraging owners of canola to hold rather than sell tonnage.
"We're finding in South Australia, the domestic market has been buying canola to put through feed mills because there's not much of anything around.
"There is still canola available, but the way the season's unfolding, people are going to hang on to it,"
Mr Lange said the Lower Eyre Peninsula and the state's southeast were enjoying the best of South Australia's canola-growing season to date.
He said growers in most other areas were concerned that crops which had had a tough start would race to early maturity now that days were getting longer.
"Canola needs early vigour and bulk to set up the plant for good yields, and a lot of areas that normally get that like Clare and Maitland and Tahlee are missing out this year."
Table 1: ABS canola exports for March, April and May 2018.
| | | | | |
| --- | --- | --- | --- | --- |
| Destination | March | April | May | Tonnes |
| Argentina | 0 | 1 | 0 | 1 |
| Bangladesh | 6010 | 5688 | 3208 | 14906 |
| Belgium | 78589 | 171716 | 84 | 250389 |
| Canada | 24 | 72 | 0 | 96 |
| China | 0 | 600 | 5433 | 6033 |
| France | 65374 | 0 | 0 | 65374 |
| Germany | 178586 | 247312 | 0 | 425898 |
| Indonesia | 0 | 108 | 0 | 108 |
| Japan | 2243 | 28931 | 4076 | 35250 |
| Korea | 801 | 0 | 721 | 1522 |
| Malaysia | 1491 | 1955 | 0 | 3446 |
| Nepal | 6091 | 6148 | 3345 | 15584 |
| Netherlands | 60000 | 0 | 0 | 60000 |
| New Zealand | 1319 | 1343 | 291 | 2953 |
| Singapore | 0 | 311 | 0 | 311 |
| South Africa | 44 | 0 | 1 | 45 |
| United Arab Emirates | 46 | 87500 | 20680 | 108226 |
| USA | 1 | 0 | 0 | 1 |
| Vietnam | 994 | 210 | 0 | 1204 |
| TOTAL | 401613 | 551895 | 37839 | 991347 |
Grain Central: Get our free daily cropping news straight to your inbox – Click here