GROWER selling of chickpeas slowed to a trickle as old-crop supplies dwindled and new-crop prospects looked shaky in some areas which produced big tonnages last year.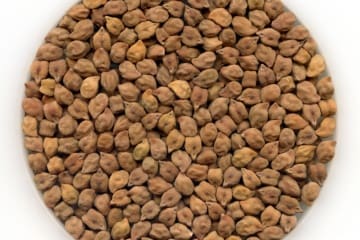 Old-crop chickpeas were reported traded this week between A$900-$905 per tonne delivered container terminal (DCT), A$80/t above the best bid for new-crop, which at A$820/t DCT had no offer against it.
Walgett-based Special One Grain CEO Jaimee Carrigan, said fresh grower sales would be a function of the production forecast for the 2017 chickpea crop, which may fall below one million tonnes.
"New-crop was active last week, and now grower selling has dried up."
New-crop outlook
The level of activity this year is probably half of what it was at this time last year.
Ms Carrigan said the general consensus was that a new-crop estimate of 1.5 million tonnes was too high.
"There's next to nothing here at Walgett."
A dry winter to date in Australia's key chickpea-producing areas of southern and central Queensland and northern New South Wales has made yields difficult to forecast.
"You could guesstimate the crop being as small as 1 million tonnes with average yields or as big as 1.5 million tonnes if things improve," Australian Grain Export pulse trader Will Alexander said.
Demand is also impossible to quantify at this stage as that will all depend on conditions for Rabi  season crops in India and Pakistan, which would be planted late 2017 and harvested early 2018.
Large crops in 2017 in India have contributed, along with imports, to significant stocks of pulses in markets in South Asia.
Indian and Pakistan are estimated to have bought 1Mt and 400,000t respectively of 2016 Australian chickpeas.
"But next year's demand is guesswork," Mr Alexander said.
"I am seeing demand for Oct-Nov shipment into most destinations, but not at the same volume as we have seen in previous years."
"We know that there will be good demand for October-November chickpea but who knows what will happen after New Year, when Rabi crops start harvest."
"Current-crop conditions in India and Pakistan point towards lower demand for Australian desi chick peas, so prices could fall in December-January, the later months of the Australian harvest."
"However, if crop conditions for desis in Australia and/or South Asia deteriorate, desi prices could firm up as the global S&D tips into a deficit."
Traders said current prices would be $725-$750/t delivered up-country packer for October-November delivery.
Old-crop still in demand
Demand from India for Australia's old-crop chickpeas is still being seen.
Trade sources reported a cargo of Australian chickpeas originally headed for Pakistan was diverted to India, and stock in Australia is believed to have dwindled to almost nothing.
Between 1 October, 2016 and 30 May, 2017, Australia's chickpeas exports were a record 2Mt.  Australia's 2016 chickpea crop was estimated to have been as high as 2.1Mt.
"The crop last year was easily the biggest on record," Mr Alexander said.
"Australia has never before seen such a huge volume of chickpea exports."
The most recent month for which Australian Bureau of Statistics data were published show Australia's May 2017 chickpea exports remained a strong 120,000t.
"Recently we have seen further demand into India for August, which should sweep up the remaining tonnes.
"Although at a lower level, farmers should be happy to sell any remaining tonnes at $825-$850/t delivered packer.
"It's been an unbelievable year for desi chick peas: bigger crops and higher prices."