EXTREME freezing weather in Canada last month that shut down canola crops was the headline USDA plied in its October World Agricultural Production report released on Friday, as drought further cut Australia's crops and monsoon rains dealt  central India the chance of a record cotton crop.
USDA revised downwards again the forecast  for Australia's 2019/20 wheat crop to 18 million tonnes (Mt), 1Mt lower than last month but 700,000 tonnes greater than last year. Harvested area was not altered from the previous month forecast of 10.7 million hectares.  Yield, at 17 per cent below the five-year average, was forecast at 1.68t/ha.
But its forecast of cotton production in Australia foretells the breadth of the extreme dry. The Australian cotton crop outlook, severely restricted by drought, is forecast to result in harvested area and production around half those of last year (as graphically shown in Figure 1), the second-lowest crop in 30 years.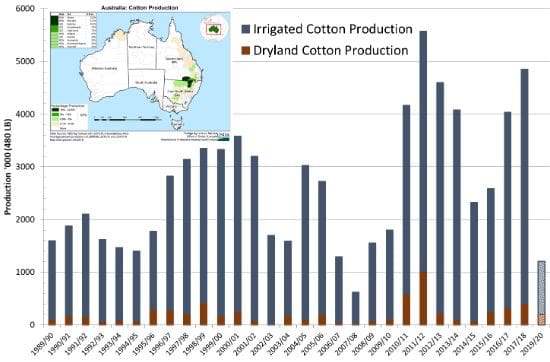 Figure 1: Australian cotton production dryland (ochre columns) and irrigated (grey columns). (thousand bales) Source: USDA Foreign Agricultural Service, cotton Australia, Cotton Growers publication. Note: the column denoting 2018/19 production was omitted. It was 2.2 million bales total.
Cotton record area harvest hope in India
India's 2019/20 cotton crop of 30.5 million bales would reflect a record area planted in the major cotton regions in central India, Gujarat and Maharashtra and improved monsoon weather.
USDA said the central Indian crop is presently in the boll stage and NDVI analysis is showing strong crop vigour in both Gujarat and Maharashtra.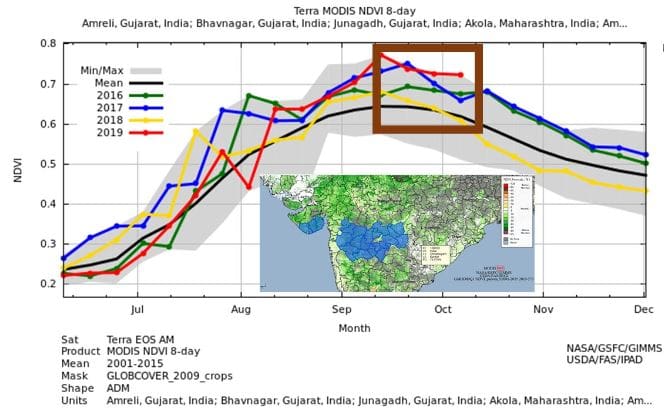 Figure 2: Normalised difference vegetation index (NDVI) India cotton. The red line indicating 2019 conditions at the upper end of the range of potential. Source USDA FAS Office of global analysis international production assessment division.
Early winter snow delays Canada canola harvest
Canola harvest began in September but was interrupted by extreme cold conditions across the major canola producing provinces.  USDA trimmed 3pc in its October monthly revision of crop size, forecasting Canada's canola output at 19.5Mt, slightly smaller than the crop last year.
The cold conditions not only dropped several inches of snow late September but were accompanied by an early, season-ending freeze in Saskatchewan, Alberta and Manitoba which produce almost 90pc of Canada's canola crop. Figure 3 shows widespread freezing conditions ranging from 5 below to 15 below degrees Celsius.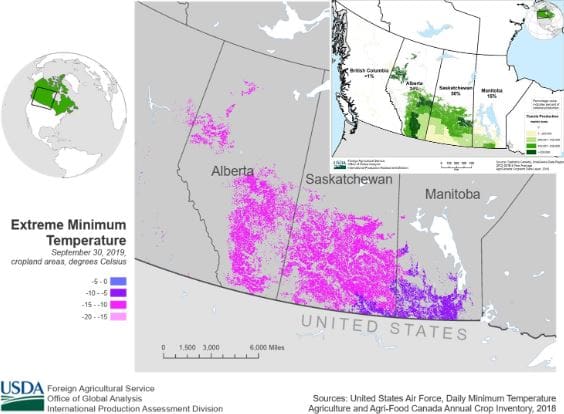 Figure 3: Saskatchewan produces 50pc of Canada's canola crop, Alberta 24pc and Manitoba 15pc. The Canadian canola crop has suffered early season-ending cold temperatures.
Source: USDA World Agricultural Production Report
View the full report here
Grain Central: Get our free daily cropping news straight to your inbox – Click here