ROBUST growth in Vietnam's cotton yarn and product exports is projected to drive 2020/21 cotton consumption to a record 7.3 million bales, 700,000 higher than the previous year's downfall from COVID-19, according to the latest report from the United States Department of Agriculture.
Yarn exports from Vietnam in 2020/21 have already exceeded the previous year's record by more than 10 per cent through the first 11 months of the marketing year.
Foreign demand has been primarily driven by China, with Vietnam's cotton yarn exports to the country accounting for roughly 60pc of Vietnam's total cotton lint consumption.
China is the world's largest cotton yarn importer and Vietnam's largest customer with the geographic proximity and foreign investment by Chinese companies driving record exports.
China's August to June imports of Vietnamese cotton yarn were a record (for the period) and equal to roughly 4 million bales of cotton lint consumption.
China's robust demand is expected to persist with projected growth in China's cotton fabric and product exports, in addition to greater domestic consumption of cotton products.
The United States WRO (Withhold Release Order) on cotton lint from China's Xinjiang region is further supporting current and future demand for Vietnam's cotton yarn.
Practically all cotton yarn spun in Vietnam is produced with cotton lint imported from outside of China.
Garment and textile manufacturers in China seeking to circumvent the WRO are likely substituting imported cotton yarn for domestic with roughly two-thirds containing Xinjiang lint.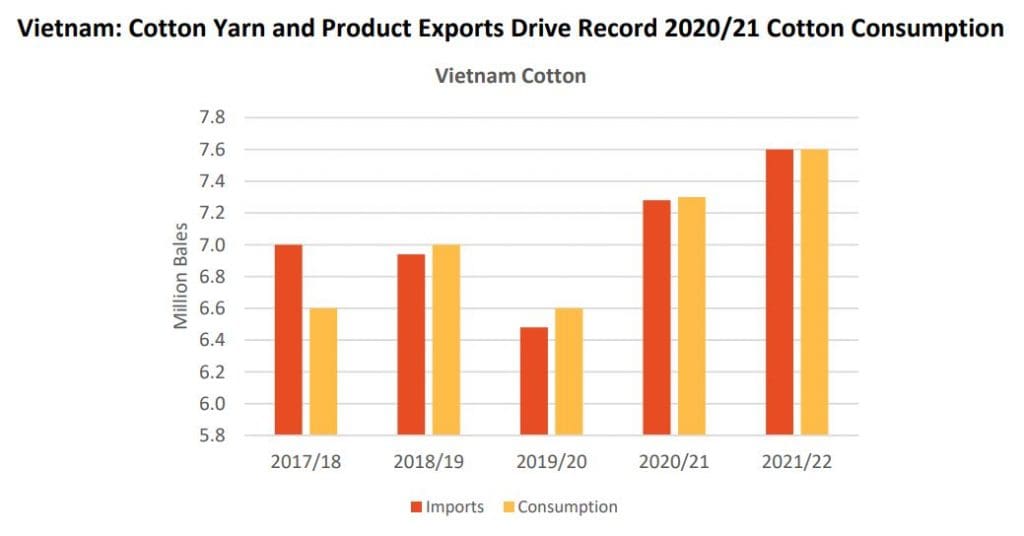 Yarn consumption rising
Greater domestic consumption in Vietnam of cotton yarn is also driving cotton consumption higher.
Significant foreign and domestic investment in Vietnam's garment industry has driven greater demand for cotton knitted fabrics and thus domestic consumption of cotton yarn by knitters.
According to Vietnam customs data, garment and textile exports in 2020/21 are expected to recover from the previous year's decline and rise to more than $30 billion; the garment industry is one of the country's largest valued source for exports.
Vietnam's largest export market for cotton textiles and garments is the United States, which is also the world's largest importer.
US imports from Vietnam were a record in the first 11 months at more than $5 billion.
Knitted cotton sweaters, pullovers, and other similar articles of clothing were the largest product category, accounting for roughly 30 percent of the total value of U.S. cotton product imports from Vietnam.
This particular category has historically been dominated by China, however, two factors have driven Vietnam's market share of U.S. imports higher:
the 2020 and 2021 Withhold Release Orders (WROs) mentioned earlier
ongoing tariffs specific to China (Section 301 dispute in September 2019)
Both have lowered US imports of knitted cotton sweaters, pullovers, etc. from China nearly 20pc thus far in 2020/21 (Aug–Jun) despite US imports of this product category rising over 10pc year-over-year during the same period.
Robust export prospects for both cotton yarn and products are expected to boost 2021/22 cotton consumption even higher to 7.6 million bales, and further support Vietnam's rise as a major global cotton importer as well as exporter and consumer of cotton yarn and products.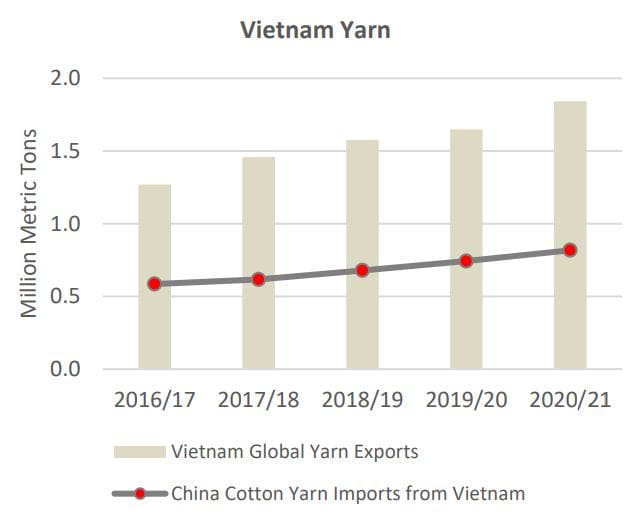 Source: USDA