AUSTRALIA's record winter crop harvest is set to lift profits for eastern seaboard grain handler, GrainCorp, from $53 million to between $130 and $160 million for the 2016-17 financial year despite a slump in global wheat prices, according to preliminary results released at the company's annual general meeting today.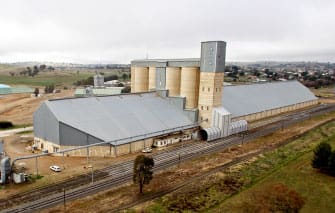 GrainCorp expects its underlying earnings before interest and tax (EBIT) for the 2016-17 financial year to be between $385 and $425 million. Last year's EBIT was $256 million.
GrainCorp managing director and CEO, Mark Palmquist, said the expected result reflected the record eastern Australian crop and continued solid performance from GrainCorp Malt.
The company's first half results will be released on May 11.
The AGM also heard that GrainCorp chairman and director, Don Taylor, would retire on May 1 to be replaced by company director, Graham Bradley AM.
Mr Bradley has had an extensive business career, including as managing director of Perpetual Limited and senior roles at Blake Dawson and McKinsey & Company.
He retired from the board of Stockland Corporation in October 2016 after 11 years as chairman, and he currently holds non-executive chairman roles at a number of non-listed companies including Infrastructure NSW, EnergyAustralia Holdings and HSBC Bank Australia.
GrainCorp intends to appoint Mr Bradley to the Board on March 1, and he will assume the chairmanship following Mr Taylor's retirement.
GrainCorp operated 160 silos during the recent harvest with average receivals per site of 70,000 tonnes compared to 180 sites the previous year with an average intake of 40,000t and 300 sites the year before that with 50,000t.
Thirty silos achieved record and near-record receivals this season.