Hundreds of thousands of tonnes of Central Queensland grain appear set to be moved off road and onto rail for delivery to export port in future after the Queensland Government yesterday responded to long-running AgForce and Graincorp calls for funding for a new rail siding at Yamala.
State Development minister Anthony Lynham yesterday announced that $2.6 million will be spent on a new rail siding at Yamala east of Emerald, infrastructure needed for GrainCorp to commence construction of its planned new $18.5m, state-of-the-art grain handling facility.
AgForce has been lobbying for the Queensland Government to invest in improving Queensland's deteriorating grain handling infrastructure for several years.
Standing side by side with Graincorp's regional manager for Queensland, Brad Foster, in February, AgForce grain president Wayne Newton said Queensland Government funding was needed to "unlock" Graincorp's planned $18.5 million investment in a new site at Yamala.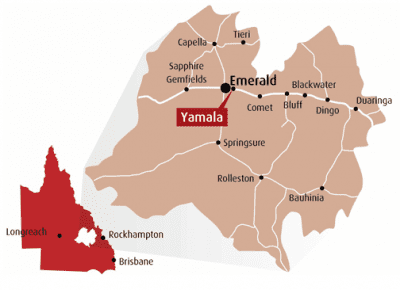 Mr Newton said the Queensland Government funding for the new rail siding meant the new grain facility could now go ahead, which would generate substantial cost-savings for the region's grain industry.
The Yamala site will have 180,000 tonnes of storage capacity, the ability to handle longer trains both now and into the future, and faster train cycling times to Gladstone, he said.
"It's also a win for the local community as it gets more grain trucks off regional roads in Central Queensland and allows grain to be efficiently handled away from the Emerald township."
While welcoming the funding announcement, Mr Newton said more funding was needed to improve grain rail infrastructure in both central and southern Queensland, to ensure the State's grain growing industry did not fall behind other states on supply chain costs and could capitalise on export opportunities.
Transport accounted for more than one third of a grower's cost of production, he said.
"For our grains industry to be globally competitive, we need to be able to get our product to port as efficiently as possible, and rail transport is far more efficient than road transport," he said.
"The new rail siding at Yamala is just one part of the picture.
"The Moura rail link that was damaged during flooding in 2011 still needs to be repaired so grain in the area doesn't need to be transported by road.
"The buck passing between the Queensland Government and Aurizon over this rail link needs to stop. Grain growers just want the rail line re-opened as it would unlock a further $3 million investment from Grain Corp to upgrade rail loading at their Moura site.
The new investment would mean greater efficiency and significant cost savings for growers in Central Queensland.
Graincorp is awaiting further detail on yesterday's announcement before offering specific comment.
In a statement to Grain Central today Graincorp said it welcomed the Queensland Government funding for what it described as "vital infrastructure in Central Queensland".
"We look forward to working with the Queensland Government, the Department of State Development and Central Highlands Regional Council to understand the timing and details of the funding," Graincorp regional manager for Queensland, Brad Foster, said.
"We want to thank AgForce for their pivotal role in highlighting the importance of regional infrastructure investment on behalf of Queensland growers."
Earlier this year Mr Foster said GrainCorp was planning to invest $21.5 million in a high speed rail loader and upgrades to the site and rail siding at Yamala. At the time he called on the Queensland Government to stump up $8.5 million to reopen a rail line and bridge and construct a new spur line connection with the main line. Details on whether that investment is still required was not clear in statements released in the last two days.
GrainCorp has previously stated that its new Yamala site will unlock lower transport rates for growers through improved rail loading capabilities to handle faster cycling trains (under 24 hours point-to-point).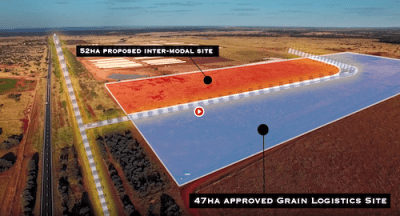 'I can't stress enough that this is a win-all-round project'
The Queensland Government has not yet publicly released further details on its funding commitment.
Central Highlands Regional Council Mayor Councillor Kerry Hayes said the facility would literally take "hundreds of thousands of tonnes of Central Queensland grain off our roads" by taking advantage of the 20-tonne axle loading that the electrified central rail line offers.
"I can't stress enough that this is a win-all-round project: farmers win by reducing grain transport costs, council wins by reducing road maintenance costs, the community wins from the employment opportunities and having safer roads—it exemplifies the regional economic development and innovation that all levels of government are promoting."