THE Central Queensland Inland Port (CQIP) is beginning to take shape with the completion of earthworks and a 1.6-kilometre rail siding, and one of the key investors, GrainCorp, on track to have an $18.5-million grain handling facility ready for next year's winter crop harvest.
Partially-funded by the local, state and federal governments, CQIP is a large-scale development on a former rural property adjoining the Capricorn Highway and Rockhampton-Longreach railway line at Yamala, 23 kilometres east of Emerald.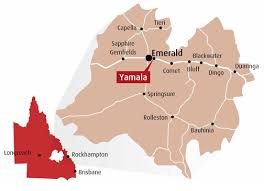 When completed, the site, which is alongside an established Louis Dreyfus cotton gin, will incorporate a state-of-the-art GrainCorp facility, an intermodal container terminal, and a 56-lot industrial park.
The aim is to streamline freight movements and reduce supply chain costs by allowing goods and commodities, including the region's grain, to be aggregated on site and transported by rail directly to the major ports of Brisbane, Gladstone and Mackay.
GrainCorp Queensland regional operations manager, Brad Foster, said with the Stage 1 earthworks and rail spur line now completed, work would commence in the second half of January on the construction of GrainCorp's bunkers, weigh bridges, offices and silos for the rail outload of grain, ready to be fully operational by harvest in September.
Mr Foster said the new facility would replace the existing grain handling site in Emerald which would be closed and sold.
"The Emerald site where we are operating now is not good from the point of view of traffic flow. The new site will really open up the flow, which in turn means faster turnaround times for growers. We'd expect them to have a lot less time on site," he said.
"There will also be more drop off points for them so they can turn their trucks around faster. There will be two weighbridges – an in and an out bridge – which will help stop congestion.
"It also gives us 24-hour rail turnaround to Gladstone. At the moment it is a two-day cycle. We'll be able to spin a train a day in there which helps with accumulation for the cargoes. That in turn means growers will get more dollars in their pockets."
The CQIP site was once a cattle property owned by Alan Stent-Smith who is now managing director of CQIP and closely involved with the project.
"As a local landowner and primary producer, I believe that the Inland Port development will provide cost savings at the farm gate through improved efficiencies to the supply chain," Mr Stent-Smith said.
"I am also excited around opportunities for both agribusiness and industry to develop in a purpose-built industrial estate that has transport options for imports and exports into and out of the Central Highland Region. It is a location we as a business will be investigating closely while working with other parties to develop into processing opportunities for the wider region – it's an advantage this region can't afford to pass up."
CQ Inland Port project director, Kevin Doggett, said in addition to the development of the GrainCorp facility, on the opposite side of the rail siding CQIP was building an inter-modal facility for rail containers for grapes, citrus, cotton.
"The good part about this site is that you can go to three container ports: Townsville, Gladstone and Brisbane. You don't have that option in NSW or Victoria. That creates competition and increases the number of destinations which is good for agricultural industries across the board," he said.
"The other key piece is that hopefully there will be inputs coming in, such as mining consumables. That helps keep the container costs down."
Mr Doggett said the next phase of the project was to develop the smaller lots associated with the industrial park.
"We are hoping to do that in January. They are all different sizes. They are for industry in general. Anything that fits the Special Industry category," he said.
Proponents are also considering the option of powering the site from alternative energy and renewables sources to reduce energy cost.
"We are looking for a point of difference to attract industry so we can offer cheaper energy to the manufacturing and agricultural businesses," he said.
Mr Doggett said in addition to achieving substantial economic savings in the transport of freight from the CQ region, the project also had environmental and social benefits.
"On the economic front, it will improve the logistics. On the environmental side, Deloittes did a study which shows that, in relation to carbon emissions, every tonne of goods/kilometre that goes by road produces 16 times more carbon than by rail," he said.
"There is also the social benefit of not having as many trucks on the road. The trains (from the inland port) aren't meant to compete with road. The trucks will play a different role. Instead of them doing the long-haul cartage they will do the 'spoke and hub' work.
"The Department of Transport are very keen on it because their business cases say the road maintenance savings are huge. They want to incentivise freight onto rail."
Grain Central: Get our free daily cropping news straight to your inbox – Click here