AGRICULTURAL food production and the farm machinery sector will continue to operate relatively normally under the strict, new Stage 4 and Stage 3 COVID-19 restrictions imposed on Melbourne and regional Victoria this week.
The tough new restrictions will see "non essential" businesses shut.
Tractor and Machinery Association (TMA) executive director Gary Northover said businesses deemed "essential" would be allowed to continue, and the advice was that that definition included agricultural machinery, parts and service providers.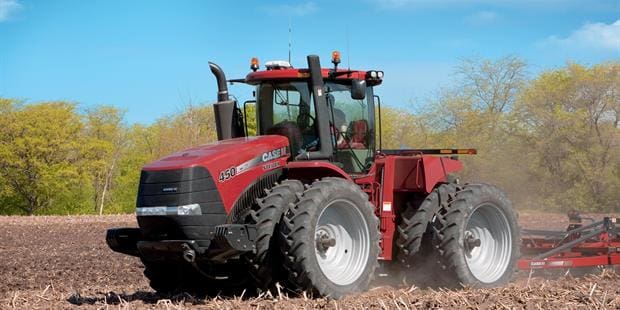 Mr Northover said there should be little impact on the supply of farm machinery services and parts to rural Australia.
"Our interpretation of the Government's instructions is that we will be permitted to continue to operate, particularly in the parts and service environments," he said.
"Agricultural retail outlets will be drive-through only. There are some question marks over the wholesale and warehousing operations, but we believe that because they are related to the supply of equipment to an essential service such as agriculture that they will still be permitted to operate.
"So, in these early stages we are saying that, given the COVID Safe business plan requirements that will be required to be enforced, it should be business as usual."
Mr Northover said the function of Melbourne as a big entry port for new machinery and parts would also continue to operate close to normal.
"Our Board has reviewed the Government's announcement and we believe that specifically providing equipment for an approved operation such as agriculture is permitted. We will be able to keep going," he said.
He said there was a question mark at the moment over whether the QANTAS freight terminal at Melbourne airport might be closed.
"That may affect next day parts deliveries. We may need to make allowances for that," he said.
Maintaining food supply
Victorian Farmers Federation (VFF) president David Jochinke said the agricultural sector was one of a few that would be permitted to continue.
"The VFF recognises the gravity of this responsibility. We understand the trust that has been placed in our sector and that we are accountable for keeping Victorians fed during this state of disaster," Mr Jochinke said.
"We have been in constant talks with government to advocate for farmers and ensure that decision-makers understand the importance of keeping the food supply chain open and those discussions have ramped up over recent days.
"The VFF developed a detailed COVID-19 action plan for our industry which resulted in $410 million in additional Australian and Victorian Government expenditure which has enabled the agriculture industry to continue to operate."
Ag business concerns
Mr Jochinke said farmers were becoming increasingly concerned about restrictions to their business and business interruption, labour shortages, freight and logistics problems along with issues around access to inputs.
"We know that continuity of business is emerging as a big concern for farmers which is why our discussions with government have focused on four key principles: bipartisan and comprehensive approach to border issues, smoother flow of goods and services intrastate and interstate, strategies to enable the movement of the agricultural workforce and regulatory change to ensure that agriculture and its supply chain is classified as a critical service," he said.
"The VFF today wrote to our members to reinforce the importance of implementing COVID-19 action plans, which are critical to keeping the agriculture supply chain open.
"Our clear guidance to farmers is to be extra vigilant as COVID-19 reaches our doorstep. We must implement the best protective measures for our businesses and our workers: face coverings or visors for employees, ceasing communal gatherings, installing screens/curtains, furloughing of staff, physical distancing, cleaning and disinfection measures and insisting on personal hygiene and use of sanitisers, minimizing the number of people coming onto your farm."
Mr Jochinke said the agriculture sector had the potential to be a major contributor to the economic recovery of both Victoria and its regions.
"While this will be inconvenient, if we get it right and we do the hard yards, then it will only be for a few weeks and our businesses will continue to operate," Mr Jochinke said.
"Victoria is Australia's food bowl. We are Australia's largest producer of food and fibre and the nation's largest exporter.
"We all know how important small business is to our economy. I don't think Victorians realise that agribusiness together with forestry and fishing is the highest value add, employs the highest number of people and ranks number five by dollar value in Victoria."
Grain Central: Get our free daily cropping news straight to your inbox – Click here