DECISION time is fast approaching for farmers in the drought-hit farming areas of eastern Australia where the fate of this year's winter crop hangs in the balance.
Growers from southern Queensland to the northern Riverina are faced with a range of options for their crops – abandoning, grazing, turning to fodder or running them through to grain.
Many of the crops that did go in in the hardest hit areas of central west and north west New South Wales and southern Queensland will be too thin to do anything with.
In those areas where crops have struggled but have produced some level of bulk, the decision will depend on how the economics compare for either cutting them for hay or silage in a high-price fodder year or carrying them through to grain.
Some growers have already acted, with hay and silage contractors moving through some of the earlier crops in southern Queensland, northern NSW and the northern Riverina.
Southern Queensland
On Queensland's Darling Downs, barley crops were being cut for fodder this week in a pocket north of the Warrego Highway in the Macalister, Brigalow, Jandowae triangle that was fortunate to get a good fall of rain in June.
AgForce grains president and local farmer, Brendan Taylor, was among those in the area who, for the first time ever, decided to cut barley for silage.
"There are crops that have volume that are worth cutting for hay and/or silage. Because they have a reasonable body of straw, the fodder value outweighs the grain value – potentially double in some cases," he said.
"Even though grain values are high, the fodder value is also high. There are crops around here that are cutting in the 15 to 20 tonnes/hectare range for silage at $100 to $120/tonne. The grain value doesn't even come close to that.
"We are only guessing what the grain yields are yet because they haven't been harvested. Three tonnes/hectare is probably a realistic grain yield, which is still a very acceptable grain yield in a rotten season rainfall wise."
Mr Taylor said while cutting a crop for fodder had the drawback of removing a lot of nutrients and ground cover, for farmers looking for cash flow in a tough year it was an opportunity worth taking.
"The demand is there. The feedlots, dairies and anyone who has the ability to store silage are grabbing it with both hands. It is obviously a tremendous feed source for them," he said.
Mr Taylor said unfortunately for farmers who had missed the scattered falls and only had light crops, the economics wouldn't stack up for cutting them for fodder.
"You have to have a good body of feed to make it worthwhile for the silage contractors to come through," he said.
"With what we are cutting here at the moment, they are loading two trucks in one swath. From one end of the paddock to the other they are picking up 50 tonnes.
"It is the economics of a dry time and we are fortunate to be in a position to take advantage of it. There are a lot of people who have nothing and haven't got the option of either harvesting or silaging it. You feel for those people. It is a tough gig for some people at the moment."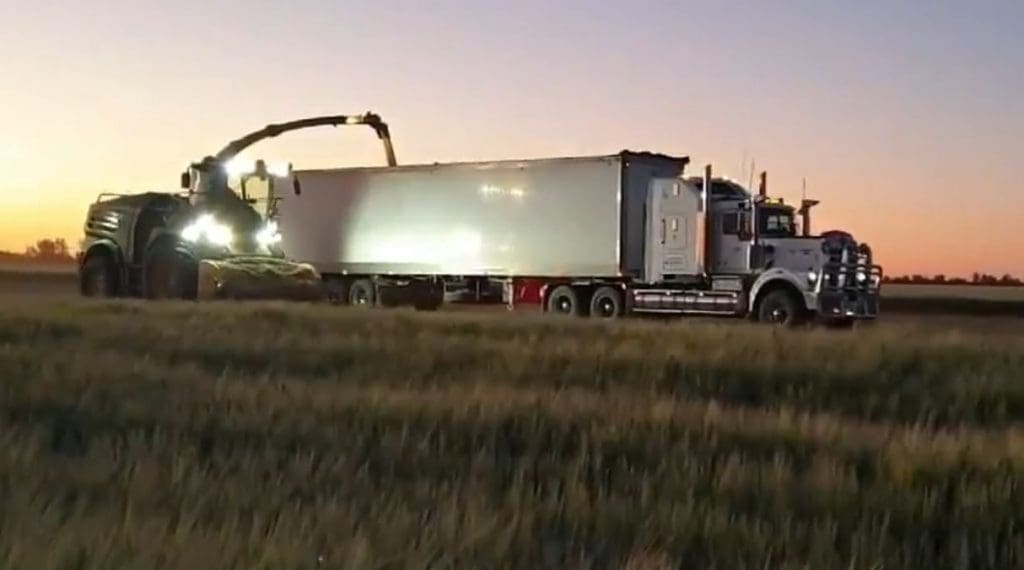 Central/North NSW
In the drought-parched regions of central and north west NSW, Grain Orana Alliance chief executive officer, Maurie Street, Dubbo, said there were pockets of winter crop, but overall there wasn't a lot of crop either in or up to a stage where there would be a chance of cutting it for hay.
"Some are doing okay, but the majority of the area has literally no chance for hay at all. From Coonamble to Warren has barely any crops, and there are only a few from Condobolin through to Cowra," he said.
"Further south from Wagga Wagga to West Wyalong there are probably opportunities for cutting hay, but north of there there are a lot of areas that don't have that option. A lot of growers didn't even get a start."
Southern NSW
In southern NSW, Riverina Coop agronomist, Glen Smith, Wagga Wagga, said while there had been some crops cut for fodder in the north and north west parts of the Riverina, growers were largely waiting to see what rain forecast for this weekend produced.
"There is a lot riding on the front coming through over the weekend. Should that materialise, crops will buy some time," he said.
"But there are salvage and fodder discussions happening around the district about what might happen if that front doesn't come through."
Mr Smith said it was getting to the point in the season where the fate of canola would be a discussion point, while cereal crops would need to progress further before growers would be making decisions about them.
He said growers would be running numbers on what they had available, what the fodder market looked like now and in the future, and what their options were.
"If we get some rain from this front across the south west slopes and Riverina it will buy us some time to consider those options. There has been no crop that hasn't been suffering some level of moisture stress in this area," he said.
"There will be more discussion post Henty Field Days (September 17-19) when there will be more confidence in the weather and not being exposed to weather patterns that might destroy the little bit of fodder that is there."
Grain Central: Get our free daily cropping news straight to your inbox – Click here