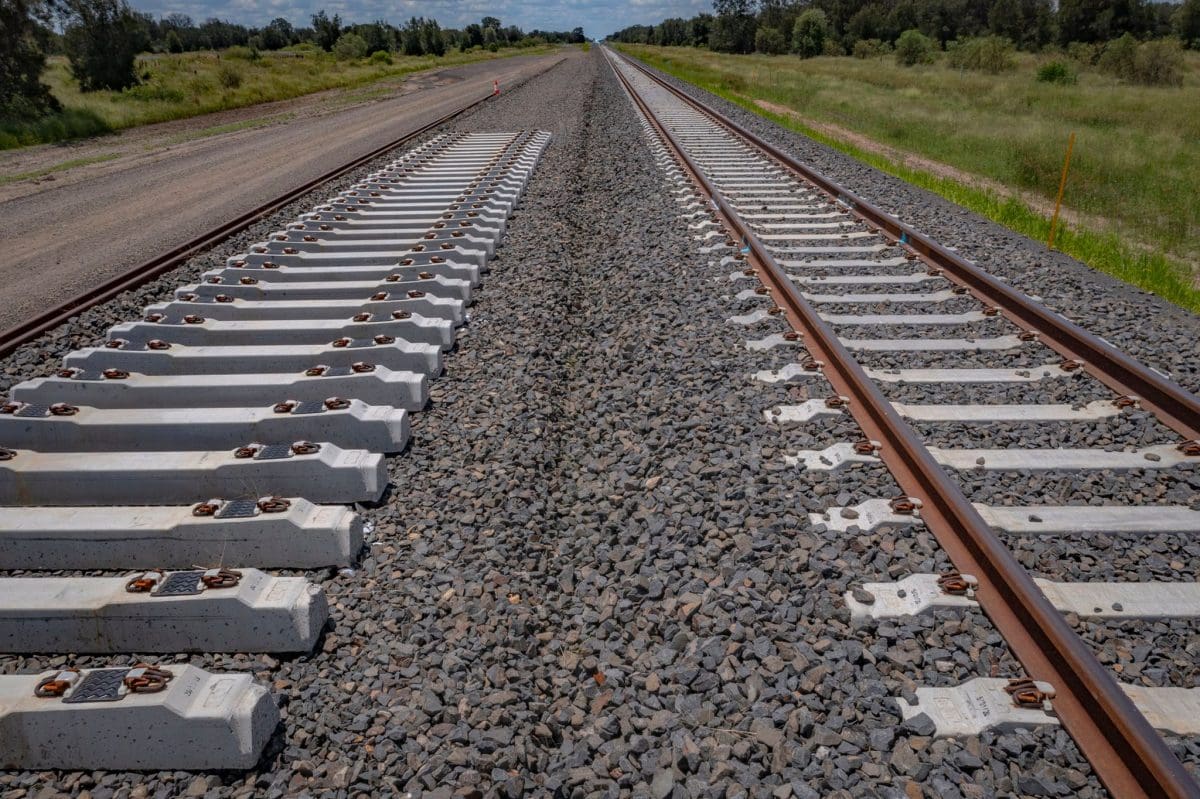 INADEQUATE oversight from Australian Rail Track Corporation was key to a predicted doubling in costs and extensive time delays for the 1700km Inland Rail, according to a review of the project released today.
The Inland Rail review, undertaken by Kerry Schott, found the project would cost at least $31 billion, a significant jump from the 2020 estimate of $16.4B, with the potential for further blow-outs.
Dr Schott was unable to provide final cost or timeframe predictions.
"There is insufficient certainty about the completion date and the final cost to have confidence in the current estimates," Dr Schott said.
She made 19 recommendations to the Federal Government, with Minister for Infrastructure Catherine King confirming that cabinet has "accepted every one of them in full or principle".
Dr Schott said the fundamental issues with the project were around governance and organisation of its delivery rather than the engineering challenges.
"It's not a bad project; it has just been managed really badly," Dr Schott said.
She said ARTC's background was in maintaining freight rail lines, and it did not t have the capacity at a board level or across the organisation to manage a project the size of the Inland Rail.
On top of these deficiencies, Dr Schott noted the board did not have the skills required to oversee the project, or a permanent CEO for the past 18 months.
She laid blame for this at the feet of former Minister for Infrastructure Barnaby Joyce and other former Federal Government "shareholder ministers".
"A board tasked with managing a large rail freight-operations company and delivering a major linear infrastructure project needs to be strong in all the matters in which this board is weak.
"ARTC has assured me that its desired skill mix was made known to the shareholder ministers of the former government, who were responsible for the latest round of board appointments.
"This advice, given by the chairperson at the time, was not heeded by shareholder ministers, and presumably cabinet, at a time when these types of skills were critical for the board."
Dr Schott said the inadequacy of the board led further management issues, such as significant problems obtaining approvals from state and local governments, as well as engaging with communities and landholders.
"ARTC did not manage that process very well and in the process, they managed to upset everybody, and when you do that instead of making any progress, you go three steps back.
"They have had to recover from starting off quite badly with their approval processes; that has meant that they have been very delayed."
She said these delays resulted in most of the cost escalations.
"When a project is running late, you get escalation, and you have people sitting around doing nothing and it gets very expensive."
Ms King said the Albanese Government supports Dr Schott's recommendation to establish a subsidiary board of ARTC to oversee Inland Rail as a separate entity from the day-to-day work of ARTC.
Melbourne to Parkes focus
Dr Schott recommended the government direct its attention to finishing the Melbourne-to-Parkes sections before taking major steps on the northern New South Wales and Queensland alignments.
Ms King said the government accepted this suggestion.
"We are really determined that we will get it to Parkes," Ms King said.
She said completing that part of the line would serve "to increase resilience and improve the supply chain productivity between Melbourne, Perth, Adelaide, Sydney and Newcastle", as well as provide some revenue to ARTC.
She said the government would not be entering into contracts or tendering on the other sections "until we have a really good handle on it".
Ms King said the government, in line with Dr Schott's recommendations, would appoint an independent cost estimator and value engineer who could "answer outstanding questions about cost and timeframes for the entire project".
She said this information would aid the government in moving forward with the sections north of Parkes.
End points near finalisation
Dr Schott said she was surprised by the lack of existence of formal end points for the Inland Rail project.
She said the Queensland termination point provided the most uncertainty for governments and industry.
South-east Queensland is currently serviced by two terminals, Bromelton and Acacia Ridge, and neither can accommodate 1800m double-stacked trains that are expected to use the Inland Rail network.
"I observe at this time that Ebenezer is the preferred location for the intermodal terminal from the number of other sites that have been considered.
"Industry through the review broadly supported Ebenezer, highlighting concerns with congestion at Acacia Ridge and noting the favourable road connections at Ebenezer to support the distribution of freight across Brisbane and to the Port of Brisbane."
Dr Schott noted that her recommendation will be subject to a business case being developed by the Queensland and Federal governments into the most efficient intermodal terminal location, with other locations under consideration including Greenbank, Elimbah, Charlton and Wellcamp.
Dr Schott backed the Federal Government's current proposal to have two intermodal terminals as Melbourne-based "bookends" of the Inland Rail.
She said the proposed Beveridge hub should be "available as soon as practical" and a route should be developed to the Western Interstate Freight Terminal planned for Truganina.
Inland Rail worth time, money
Dr Schott and Ms King reiterated their view that the Inland Rail completed in full would be worth the time and money spent.
"Australia's freight task is projected to grow by more than 20 per cent between 2018 and 2040, which is an additional 130 billion tonne kilometres of goods to be transported annually," Dr Schott said in her report
"Rail can be competitive, lessen road congestion, lower road-maintenance costs, and operate with fewer emissions.
"In the future, it is needed to meet the increasing national freight task."
Ms King said at this stage, the government has no intention of scrapping the Inland Rail project or terminating it at Parkes or the NSW-Queensland border.
"Australia's investment in Inland Rail is critical to help us move more freight as our population grows."
ARTC board chairperson Peter Duncan said the company noted the findings of the review and was "committed to working closely with the Australian Government to implement those recommendations".
"We understand there is a high level of interest from staff, customers, contracting partners and community to understand the Recommendations in more detail and we will work hard to provide more information in coming days," Mr Duncan said in a statement.
Grain Central: Get our free news straight to your inbox – Click here