TARGETED co-investments and favourable policy settings promoting the establishment and retention of new domestic fertiliser operations are required to unshackle Australia from its dependence on overseas supply, according to a GrainGrowers report released today
The Fertilisers of the Future report looks at the ability of potential emerging technologies to displace current technologies over the next five years in production of Australia's major fertiliser inputs: nitrogen, phosphorus, and potassium.
GrainGrowers chair Rhys Turton said the current issues around the urea supply highlighted the need for change.
"The tight supply of urea emphasises our reliance on imports, and if we are to solve this problem, we need to look carefully at technologies and projects under development and see how we maximise the available opportunities," Mr Turton said.
This follows on from GrainGrowers' Inputs Roundtable held in March to discuss the need to look more closely at the domestic manufacture of fertiliser and the role of government in facilitating this process.
The report identified significant up-front costs for establishing production capacity for cleaner, lower-cost fertiliser production initiatives.
"We believe there is a clear role for government to provide targeted co-funding, using mechanisms such as the National Reconstruction Fund to help industry transition to a lower cost, more environmentally sustainable, domestic manufacturing base."
The report outlines a sizeable technological gap around manufacture of nitrogen-based fertilisers which is inhibiting Australian investment.
It proposes government funding for initiatives to bring forward timelines to take advantage of new technologies.
Australia relies entirely on imports for its urea, and GrainGrowers said this reliance was due to a high manufacturing cost structures, particularly for those using natural gas to produce ammonia and urea.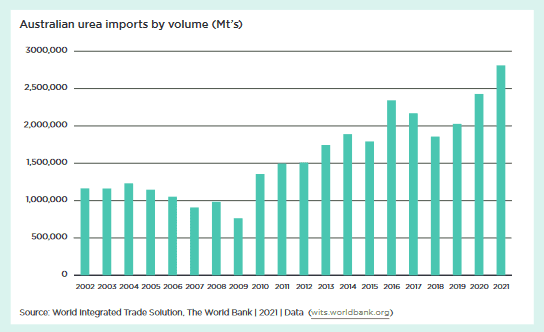 Emerging technologies such as green urea or ammonia-decarbonisation technologies used at a farm level through decentralised hubs show promise, but are currently seen as uncompetitive when compared with existing technologies.
Mr Turton said the current urea situation highlights that the best time to get initiatives started is yesterday.
"Every day we talk about it is another day wasted.
"If we are serious about addressing the supply issue over the longer term, we need to convince the government to step in and provide incentives to make domestic manufacturing a viable option."
P, K more promising
The situation for phosphorus and potassium-based fertilisers is more optimistic, with the report identifying opportunities for the government to step in and co-fund a range of "shovel-ready" projects.
Mr Turton said the fact that it currently takes an average of 8-10 weeks to import additional bulk fertiliser highlights the potential benefits of reducing reliance on overseas supply.
"We need a domestic lower-cost more reliable supply chain that reduces our dependence on overseas supply.
"Establishing domestic supply will create jobs, deliver economic benefits and give the government control over manufacturing standards and operational emissions."
Mr Turton said while domestic producers face very low barriers to entry from competing imports, high energy and labour costs need balancing against appropriate government policy settings and investment initiatives to drive financial viability.
"This report provides the evidence to support policies that drive an increase in our manufacturing capacity for farm inputs.
"A positive, cooperative response from the government will allow future development with the potential to lower the cost of fertiliser inputs for growers."
Source: GrainGrowers