A PARTNERSHIP of three Victorian farming families has listed north-west New South Wales cropping aggregation Nunkeri and Loch Lomond for sale.
Located 65km north of Coonamble and 58km south of Walgett, the 5015ha aggregation offers scale in a tightly held region known to still offer value for money in a booming rural property market.
Nunkeri (3325ha) and Loch Lomond (1689ha) feature fertile self-mulching black soils with some red loam country, suited to growing summer and winter crops, such as wheat, chickpeas, sorghum and canola.
The partnership, named Wandattah Ag, purchased the aggregation in 2020 after identifying the property's strong production potential and relatively low cost to operate.
Previous owner, Alec Wheeler, listed the aggregation for sale in 2018.
The aggregation was passed in at auction, before being picked up by Wandattah Ag.
North-west NSW value
Wandattah Ag partner Will Cooper said the north-west NSW rural property market offered opportunities that didn't exist in Victoria at the time.
"We liked the scale and the low cost of production model that there is in the north-west," Mr Cooper said.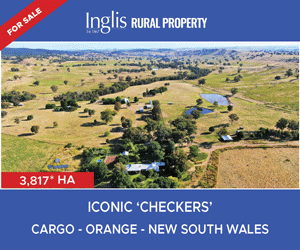 "We had some pretty good knowledge of the area already and we love the soil types."
Mr Cooper said in early 2020 the region was still recovering from three consecutive years of drought, which added to the value of Nunkeri and Loch Lomond.
"We thought that area probably had a little bit of a hangover from the drought, and it was probably discounted for that reason compared to the rest of the eastern seaboard."
The investment proved successful for the partnership, who leased the property out to other growers to manage through three positive seasons.
Right time to sell
Mr Cooper said strong property prices combined with the changing circumstances in the lives of the three families meant now was the right time to bring Nunkeri and Loch Lomond to the market.
"Land prices have risen significantly and there is not a lot of volume changing hands up in that area.
"We think it's a pretty good time to offer it out.
"The three families in the trust have also got their own projects and personal businesses going and growing families and boys coming home to the farm."
Benefits of combining resources
Mr Cooper said sale of Nunkeri and Loch Lomond would also mean winding up the Wandattah Ag partnership.
He said the families, located in different farming districts of Victoria, first came together to take advantage of an opportunity to lease a Westchester-owned property located in south-west Victoria.
"We heard it was coming up for lease and we put together the group and leased it for six years.
"We had a manager on it, and it became a reasonably passive, off-farm investment."
He said the success of the lease venture led Wandattah Ag to put their profits into the Nunkeri and Loch Lomond investment.
Mr Cooper said the partnership has provided more than just financial returns to the three families.
"We have all learnt a hell of a lot off each other in business and it has been tremendous for our own personal businesses.
"We all have different strengths and attributes that we have all learnt off."
He said the partnership has also enabled the families to invest in larger assets, which may not have been possible on their own.
"By joining forces you can think a little bit bigger, which is a good thing.
"There have been some real positives to come out of it."
Strong early interest
Moree Real Estate agent Terry Adams is handling the listing on behalf of Wandattah Ag.
Mr Adams said he has already fielded several enquiries for the aggregation.
"There has been quite a lot of interest from locals and a few from afar," Mr Adams said.
He said the level of interest was a sign that prospective buyers saw the scale and value of the property and the wider north-west NSW region.
"It is better value and even the cost of inputs are cheaper than in other regions."
Functional improvements
Alongside fertile soils, the aggregation comes with extensive infrastructure ideal for a cropping-centric enterprise.
Nunkeri features a large amount of grain storage including 4275t in 16 silos and a 10,000t bunker as well as residences, machinery shed, workshop and timber cattle yards.
A three-stand electric woolshed and bore come with Loch Lomond.
The aggregation is offered for sale as a whole or two separate assets via expressions of interest closing on March 16.
Grain Central: Get our free news straight to your inbox – Click here