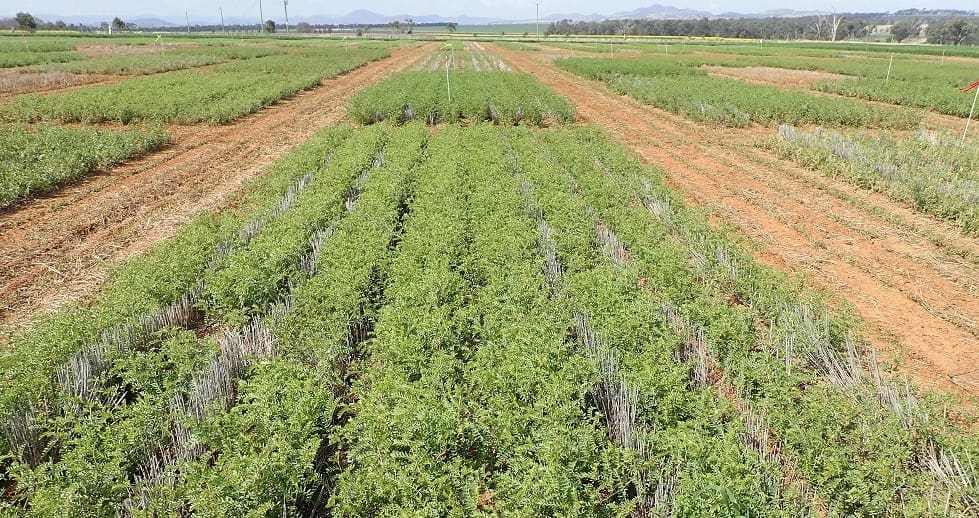 A NEW national chickpea breeding program to be based at Tamworth in north west New South Wales has been launched under the banner of Chickpea Breeding Australia.
The program, which will be run through the NSW Department of Primary Industries' Tamworth Agricultural Institute is a $30 million, five-year partnership between the NSW Government and the Grains Research and Development Corporation (GRDC).
A new $2.5 million world-class glasshouse and controlled environment room facility at the institute will be the headquarters for Chickpea Breeding Australia.
Australian chickpea production is forecast to reach 708,000 tonnes in 2020-21, an increase of 152 per cent on the previous year. This equates to a forecast gross production value of $580 million in 2020-21.
The value of chickpea exports for 2020-21 is forecast to reach $590 million, up from $306 million in 2019-20.
Collaborative effort
GRDC chair John Woods said the new breeding program was an excellent example of collaboration between the GRDC and NSW DPI that would deliver for growers across the country.
"This investment in both operations and infrastructure will result in significant increases in chickpea breeding capacity over the next five years," Mr Woods said.
"It will also build on the extensive work done under the previous Pulse Breeding Australia program, which was also led by NSW DPI in partnership with the GRDC, Queensland's Department of Agriculture and Fisheries, Agriculture Victoria, and the South Australian Research and Development Institute (the research division of the SA Department of Primary Industries and Regions).
"The GRDC has a long history of effective collaboration with research partners to deliver to Australian grain growers, and chickpea breeding is one of our success stories."
New varieties
Federal Minister for Agriculture, Drought and Emergency Management David Littleproud said the new chickpea breeding program would boost chickpea production value and offer greater opportunities for export producers.
"Chickpea Breeding Australia will help expand development of new chickpea varieties in existing and new production areas," Minister Littleproud said.
"This investment will deliver more trial plots across the country, meaning the expansion of chickpea growing regions across Australia.
"The research aims to increase yield, quality and disease resistance of chickpea varieties."
Ripe for growth
NSW Minister for Agriculture Adam Marshall said NSW accounted for 44 per cent of the nation's chickpea production.
"We see pulses as an industry ripe for growth and Chickpea Breeding Australia will give our farmers an edge over their global counterparts through the development of new chickpea varieties, and by increasing yield, quality and disease resistance," he said.
"Chickpeas offer great advantages to growers – demand for plant-based proteins is rising, they are an excellent crop rotation potential in northern regions of NSW, chickpeas allow nitrogen fixation for following crops and there are firm prices."
Sources: GRDC, Federal Minister for Agriculture, NSW Minister for Agriculture
Grain Central: Get our free cropping news straight to your inbox – Click here