AS THE United Kingdom draws closer to a likely exit, or Brexit, from the European Union, Australia's grain industry is seeing little change to the limited amount of exports shipped to what was once Australia's largest agricultural market.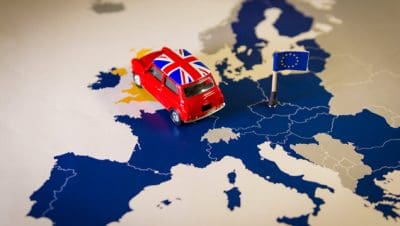 "In short, Brexit doesn't have any significant direct impact on grains industry," Grain Growers general manager policy and research Luke Mathews said.
"Our focus is on ensuring the EU-Australia Free-Trade Agreement (FTA) delivers meaningful outcomes for the Australian grains industry.
"In particular, we trust that the FTA will continue to support Australia's existing position as a significant exporter of canola to Europe, whilst opening up new opportunities for products such as wheat gluten and starches."
According to export data from the Australian Bureau of Statistics, the UK has been purchasing several hundred tonnes of both containerised chickpeas and wheat each month.
The chickpeas are believed to be the larger Kabuli-type, rather than the desi-type which Australia exports largely to south Asia, and the wheat is believed to be high-protein durum or Prime Hard.
The UK has purchased the occasional bulk cargo of Australian canola, with the most recent one believed to a shipment to Liverpool two years ago.
Australian exports of other grains to the UK are limited.
Australian Oilseeds Federation executive officer Nick Goddard said Australia's traction in the European market meant Brexit was "neither here nor there" in terms of any likely impact on Australian exports.
These were largely confined to those out of Western Australia, which has been supplementing demand from crushers in eastern states.
"What's not coming to the east coast is pretty much going to Europe."
However, Australia's strong trade links with the UK in decades past may see a return to volume sales of agricultural exports, with meat and dairy seen as likely contenders.
"We would certainly like to be at the front of the queue when the UK starts talking about free-trade agreements."
Brexit aside, the National Farmers' Federation (NFF) has been looking at how the EU-Australia FTA might shape up.
It is not expected to remove all tariffs and quotas for Australian agricultural exports, but may provide Australia with some additional access to markets.
"The real benefit of an FTA with the EU for Australia is really the size of the new market access we can secure for our agricultural exports," NFF general manager trade and economics, Pru Gordon, said.
"Australia already has good merchandise and services trade with the EU, and our investment relationship is strong.
"Unless the FTA significantly lowers EU tariffs and increases the quotas for Australian agricultural products, it will be hard to say these negotiations were a good use of time and resources.
"We'd also hate to see Australia agreeing to a bunch of new regulations Australian farmers have to meet just because the EU require us to under the terms of the FTA," she said.
The NFF is keeping track of negotiations and continuing to remind our negotiators of the importance of a big market access outcome and avoiding the EU imposing additional and unnecessary regulation on Australia.
Grain Central: Get our free cropping news straight to your inbox – Click here