ATTRACTIVE pricing for barley and buoyant returns from sheep production are likely to see grain growers in Australia's southern farming zones tweak the winter crop mix this season.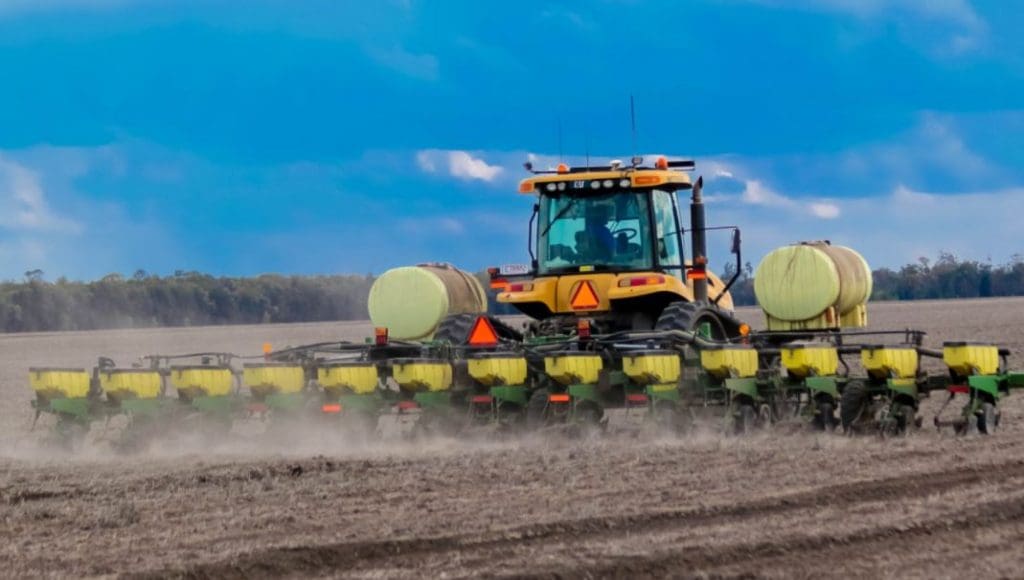 Grain Producers Australia chairman and Victorian Wimmera farmer, Andrew Weidemann, said he expected an increase in the barley area and a decrease in both canola and lentils in southern growing regions, and more pasture sown for sheep as part of a swing back to stock.
"The market price change for barley is giving growers more confidence again to grow it," he said.
"We are seeing a low price at the moment for canola, and dry conditions, which is pulling back people's intentions to sow canola.
"Lentils have suffered with the Indian tariffs putting downward pressure on the market.
"In general, I think there will be the same area of chickpeas, if not a few more, put in because there haven't been a lot of chickpeas grown in the Wimmera.
"Where people are looking to grow a pulse, there is the opportunity to do that. The price of chickpeas is still reasonable because there are other markets (alternative to India), but they certainly aren't at the highs that chickpeas have been."
Southern NSW
In southern NSW, Grassroots Agronomy consultant, Greg Condon, Junee, said most of the growers he worked with didn't chop and change their cropping mix.
"There will be a slight increase in barley because of price and risk management. It is a fairly low-cost operation compared to growing canola, particularly in the medium rainfall zone," he said.
"In the high rainfall zone there will probably be no change of plans with people having set rotations – a balance of wheat, canola and either pastures or pulses. So that will be fairly stable.
"Faba beans, field peas and lupins tend to be pretty stable. People have them for rotation reasons. We will probably see lentils stay the same. We have had a few more chickpeas in the last year or two."
Mr Condon said with livestock performing well, some growers were putting in vetch as grazing crops.
"Instead of putting a paddock of lupins in like some of these mixed farmers traditionally do, they put a crop of vetch in and graze it through the winter, control the grasses, fallow it and set it up for the crop phase the year after. It works quite well," he said.
"There will be an odd extra paddock of pasture sown. If someone has a paddock that is not performing on the crop side of things, and the livestock side is doing okay, they will put an extra paddock of lucerne and clover mix in."
Mr Condon said subsoil moisture levels on the south west slopes were good with the profile built up from rain at harvest.
"The calendar sowing program will kick off as usual with most people starting in the first week of April with dry showing. They will get a bit in before Easter, knock off for Easter and keep rolling after that," he said.
South Australia
In South Australia, Grain Producers South Australia (GPSA) chair and Mallee farmer, Wade Dabinett, said given a normal season break, SA growers would increase the area of barley this season, probably at the expense of break crops and wheat.
"The spread between barley and wheat (prices) has come right in. Particularly in areas like the Mallee there will be far more barley planted than wheat," he said.
"Canola was a good performer last year and there is a shortage of seed, so that gives you an indication of what growers are doing. I expect there will be a slight increase in canola plantings."
Mr Dabinett said despite India imposing tariffs on chickpeas and lentils, he still expected a substantial planting of pulses as growers stuck to their rotations.
"Even with the tariffs, in terms of a pulse crop the gross margins for lentils and chickpeas are still better than a lot of the alternatives," he said.
"There will always be a percentage of pulses sown, so while (the prices) are off the highs of the last few years it doesn't necessarily mean pulses will be thrown out, providing you are taking an 'agronomics first' approach to your business."
On SA's Eyre Peninsula, T-Port director and farmer, Andrew Polkinghorne, said there was unlikely to be much change in this year's winter cropping mix.
"Wheat will be the same or slightly less than last year; barley slightly more; the pulse crops less; and canola probably marginally less," he said.
"Barley will be the improver as far as area goes because of prices. There have been opportunities to lock in some reasonable prices on barley for next year. There won't be much barley sown before May/June.
"The pulses are going soft and canola is not that fancy."
Tasmania
In Tasmania, Roberts agronomic specialist, Terry Horan, said farmers were flat out sowing winter wheats for the feed market, along with long season canola and oats.
"It has been a very dry 12 months, but we had statewide rain of 25 millimetres or more last weekend, which is a good kickoff for autumn," he said.
"They are talking about a similar rainfall event this weekend statewide, so if we are up to 50 millimetres it means the autumn break is well and truly here and we are away, not only on irrigated country, but dryland as well."
………………………………………………
See also Grain Central stories on:
Grain Central: Get our free daily cropping news straight to your inbox – Click here