A SIGN of hope that Australia's stalled barley trade with China may reanimate was given last week when the Australian Export Grains Innovation Centre (AEGIC) hosted a webinar in Mandarin and English.
Entitled China: Australian malting barley technical webinar, the event held some clear messages for its audience of around 80.
The first was that Australian barley was in hot demand from regular and emerging markets, and the second was that AEGIC's pilot malting plant and developing multi malter facility could well help to keep China's malting sector up to date with Australian varietal developments while trade is in hiatus.
Virtual roadshow
Wednesday's webinar is AEGIC's third for this year aimed at a Chinese audience, with earlier events on 30 March discussing oats for the human-consumption market, and 12 May looking at Australian feedgrains.
While China is currently Australia's biggest wheat and sorghum customer, and a significant importer of rolled oats, China's barley market remains closed following the imposition of tariffs in May 2020.
The closure of the market has Australia actively working to develop new markets including Ethiopia and India for malting barley, and grow emerging ones in Asia and the Americas.
However, the return of China would bring back volume demand not evident elsewhere for Australian malting barley.
Last week's event followed a similar one held for the Chinese sector in June last year, when hopes of a resumption in Australian barley exports were considerably slimmer.
Australia's malting barley is renowned for its quality and naturally low moisture content, which allows faster germination than other origins, and therefore improved efficiency through the malthouse.
As global grain continues to trade at extremely high prices, China appears to be looking for increased importing options, as evidenced by its lifting last month of import bans in place since 2019 on Canadian canola shipped by Richardson International and Viterra.
With a new Federal Government now installed in Australia following last month's election, and the world market missing the floor it traditionally got from Ukraine barley, trade sources have told Grain Central Australian malting barley holds tremendous appeal.
"French barley was cheap when China bought it last year, but now it's the most expensive in the world," one source said late last week.
Multi malter holds potential
During last Wednesday's webinar, AEGIC barley and oats program manager Jack King provided an update on AEGIC's multi malter project, which incorporates steeping, germination and kilning processes, and can run up to six different steeping programs per batch.
Mr King said the multi malter was being developed to significantly reduce the time taken by processors to adopt new malting varieties, and to assist development of Australian barley markets generally.
"There's a few discussions still to go on where we take this multi malter project but I guess part of our role here is to position the Australian industry to access a variety of markets, and position ourselves accordingly," Mr King said.
"This multi malter we see as a tool that can help provide some of that market access and market information to diversify markets including China in the hope that the trade does resume soon, but it can be used across the board."
"The initial results are very encouraging and we look forward to developing it."
Mr King said results on selected varieties from the prototype multi malter were validated against a comparable unit operated by Joe White Maltings, and it had applications beyond facilitating rapid adoption of new malting barley varieties.
"It could also be used to develop optimal malting regimes for difficult seasons, so where we have seasons of high protein or wet harvest, the multi malter could be used as a tool to work out the best malting protocols to optimise the end malt quality from those difficult seasons."
"We could also identify step-change varieties, so this could assist breeders etcetera in identifying stand-out varieties that may have traits like modification in three days instead of four.
"Finally, it could help with identifying sustainable practice… to minimise the inputs."
"We can identify where varieties might prefer one wet phase in steeping instead of several , thereby saving water and inputs and resources for the malting industry."
Pilot in place
Grains Australian general manager classification and outgoing executive chair of Barley Australia Dr Megan Sheehy spoke about AEGIC's pilot malting plant.
Already in operation, the plant is being used to evaluate varieties for malting accreditation, and provide non commercially-sensitive information about them.
"By having a strong program like this, we have strengths that we consider to be important which are a process that's flexible and transparent with the whole supply chain."
"By having pilot malting…we have access to more data, so we are able to provide our technical committee with essential data to assist the accreditation decisions and facilitate that process.
"Having the ability to have material going through the pilot malting facility is fantastic.
AEGIC barley markets manager Mary Raynes ran through some of the forecasts for Australian barley varieties, which showed that RGT Planet was estimated to account for more than 25pc of Australia's barley area out to 2024, and the newer Maximus was expected to equal that in the same year.
"We're going to see a decline in Spartacus, and we'll see an increase in…new malting varieties built up in production."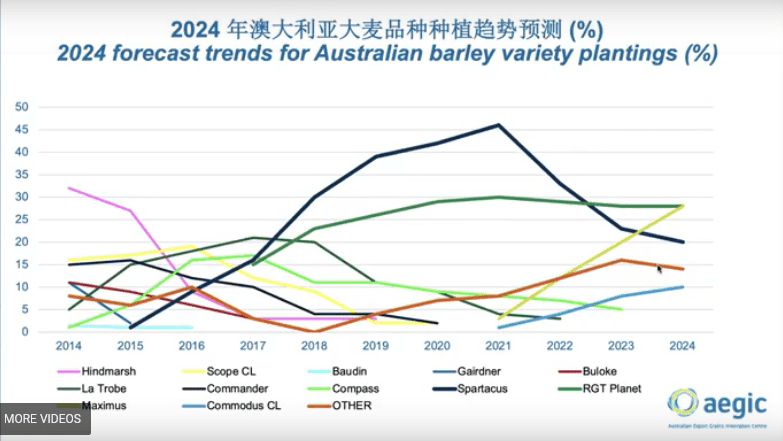 NOTE: The 20th Australian Barley Technical Symposium entitled Australian Barley: Driving Opportunities and Value is being held August 22-25 on Queensland's Gold Coast.
Grain Central: Get our free news straight to your inbox – Click here