NEW PORT facilities, improved up-country logistics and a kick-along from volume buyers India and Saudi Arabia have helped Australia load around 17 million tonnes of a 29Mt total export surplus of wheat, barley and canola in the first half of 2016-17.
New bulk export facilities at Newcastle and Port Kembla in NSW, and Bunbury in WA, plus upgrades of logistics for containers and bulk handling up-country have all helped the export program.
Table 1 is a summary of current market intelligence for Australia's three largest-volume bulk export grains, wheat, barley and canola.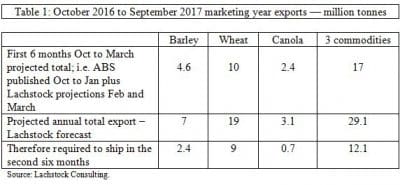 Barley well advanced
Having shipped 4.6Mt in six months, and knowing that part of last week's feed barley sale to Saudi Arabia will be shipped from Australia in April, May and June, the barley export challenge of 2.4Mt (see table 1) in the second six months of the marketing year should be easily achievable.
The major quantity of Australia's barley trade no doubt has been with China, for reasons of price, geographic proximity and suitable specification.
However the backbone of Australia's exports includes its long-term relationships with importers Japan, Gulf States, Korea, Taiwan, and specialist maltsters around the world, which are very significant, reliable and long-term counterparties.
Saudi Arabia in 2017 has been the great news story for barley exports because the dice have rolled in favour of this trade.  High Australian yields of feed-grade barley, competitive prices, and stronger-than-usual buyer demand emerged at a time when Australia was competitive, even though the usual volume-suppliers of feed barley to the Middle East — EU, Russia and  Ukraine — all remained present this year.
Argentina, for some time a million-plus-tonnes shipper, sold less than one million tonnes in total to Saudi in the past two years. 
Wheat on pace, canola strong
Aided by extraordinary sales to India, wheat exports in the first half of the marketing year — 10Mt of a projected total 19Mt — might be considered on track.
Opportunities for sales of Australian wheat may decrease in the second half of the marketing year as northern hemisphere new-crop competition becomes tougher.
Canola sales in the first half indicate Australia is in a sound position to clear its stock within the marketing year.