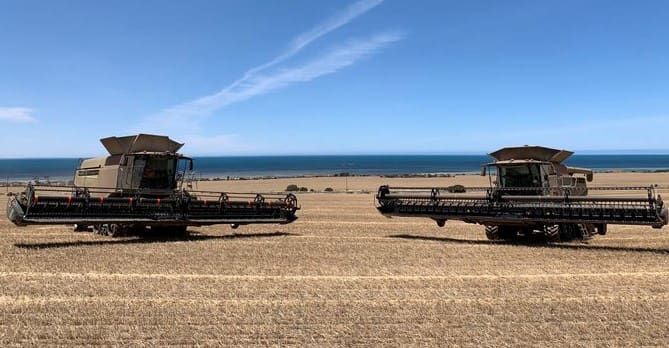 THE grinding drought that continues to impact much of Australia dominated the grain industry throughout 2019, slashing winter crop production and stifling prospects for a summer crop, particularly in New South Wales and southern Queensland.
Victoria was the bright spot of winter crop production in 2019 with favourable growing conditions and a reasonable harvest.
Western Australia fared slightly better than the east with a hard finish that pushed production below average.
The dry-induced shortage of feed for livestock in the hard-hit eastern areas prompted road and rail movements of grain from southern regions and WA, and even led to the importation of grain from overseas.
Despite the tough times, the cropping industry continued to advance with ongoing developments in trade, agronomic management, on-farm automation and ag tech innovations shaping the future of grain production in Australia.
In a snapshot of the 'year that was' in the Australian grain industry, Grain Central takes a look back over the stories that led the news in 2019.
(Click on story title to open)
January
Feedgrain Focus: Prices firm as cruel January hits sorghum
Deadline looms for Australian barley submissions to China
Sunflowers lose their shine with farmers – but remain a tourist favourite
Early pickings herald promising start to CQ cotton harvest
February
Ag slams "ludicrous" call to ban cotton exports
WA 2018 winter crop surges to 17.9Mt; SA nudges 4Mt
GM compensation inquiry maintains status quo
Big dry cuts summer crop prospects
Ag must engage "food evangelists" to retain social licence to farm
Vigilance needed to hold market share in Indonesia
March
What can growers do to close the yield gap?
Feedgrain Focus: Prices lift from season lows
Grain sector braces for "trade war tremors"
Surge in oat plantings to fill feed gap
Drought drives mungbean production to 20-year low
April
India announces 150,000t pea import quota for 2019/20
Demerger to split GrainCorp into MaltCo, New GrainCorp
Saudis settle deal on 200,000ha Nicoletti aggregation in WA
Vietnam moves to ban glyphosate
Indonesia/Australia agreement opens feed grains foothold
Trader collapses prompt push for quicker grower payments
India lifts wheat tariff as election, harvest shape policy
May
Permit requirements eased for ag machinery movements
Feedgrain Focus: New-crop values ease on holiday rain
Mediocre sorghum season drawing to a close
Manildra breaks import impasse with Canadian wheat buy
Petition gives Australian grain industry voice against imports
Victorian croppers tap into expanding oaten hay industry
Two more shipments of Canadian wheat to Australia approved
Southern winter crop off to a promising start
June
Truck selloff sign of grain cartage pressures
Feedgrain Focus: Mixed new-crop outlook befuddles market
New herbicides offer rare advance in weed control
Riverina rice harvest wraps up with small crop, strong yields
Indian chickpea imports unlikely for remainder of 2019
Climate change threat to the 'sand castle' of farming
July
Eastern Australia juggles canola deficit ahead of new-crop
Can growers close the wheat yield gap in a hotter, drier climate?
Ag responds to Four Corners 'Cash Splash' episode
What is the future of chemical use in Australian agriculture?
Elders to buy rural wholesaler AIRR
Grain industry shakeup overdue
Quest for 'Goldilocks' sorghum – not too hot, not too cold
Feedgrain Focus: Trade tightens as eastern crop prospects split
South Australia's T-Ports on track for October opening
August
Battle of the bull elephants threatens to trample Australian grain
Farrer Medal winner Tim Reeves calls for greater sustainability
Fuel reserves run low as peak farming season approaches
Fifth vessel en route to Manildra's plant from Canada
Landmark, Ruralco deal given green light by ACCC
Australian winter crop teetering as it enters spring
Feedgrain Focus: Trade slows as crunch nears for borderline crops
September
Donald medallist calls for urgent action on acidification, phosphorus
Farmers condemn 60 Minutes' portrayal of glyphosate
Farm invasion bill passes Federal Parliament
Grain, graze or fodder? Crunch time for eastern winter croppers
Port Pirie South to open as first Australian ADM bulk grain site
Scientists challenge legume N perceptions
Cotton makes a comeback in Australia's north
Modify machinery to handle short and patchy crops
October
Bulk grain could cop price hike in new ARTC agreement
Plant burger launches Australia's v2food with export in sights
Rollover protection to be made compulsory for quad bikes
Tough times take toll on Australian winter crop
Global wheat values rally as Australian harvest commences
Feedgrain Focus: Prices ease as southern crops consolidate
Cropping land values surge ahead of other sectors
November
Drought behind FY19 loss of $82M: GrainCorp
Innovative ag tech ideas showcased at AgTeCH2019
China extends anti-dumping investigation into Australian barley
Australia tipped to participate in Saudi barley shipments
'Catastrophic' fire conditions bring SA harvest to a halt
JCB Fastrac sets record as world's fastest tractor
Storms not enough to trigger NSW summer sowing
Sunrice to further downscale Riverina milling, cut jobs
CQ Inland Port on course to fast-track grain and container freight
Herbicide-tolerant wheat gene discovery offers weed control potential
December
Fourth grain port for Eyre Peninsula eyes March build start
Cotton estimate slides to 750,000 bales as drought cuts plantings
Australian wheat export forecast cut, imports tripled
SA harvest intake passes 3.2Mt
WA harvest draws to close at 11Mt
China US trade deal first phase agreement reached
Higher temperatures, lower rainfall cut cropping profits 35pc
Feedgrain Focus: Wash-outs overheat sorghum market
…………………………………………………………………………………………..
Many other stories published by Grain Central can be accessed from Grain Central's extensive story archive. Simply enter a key word or two into the 'Search' box at the top, right-hand corner of the Grain Central website.
Grain Central: Get our free daily cropping news straight to your inbox – Click here